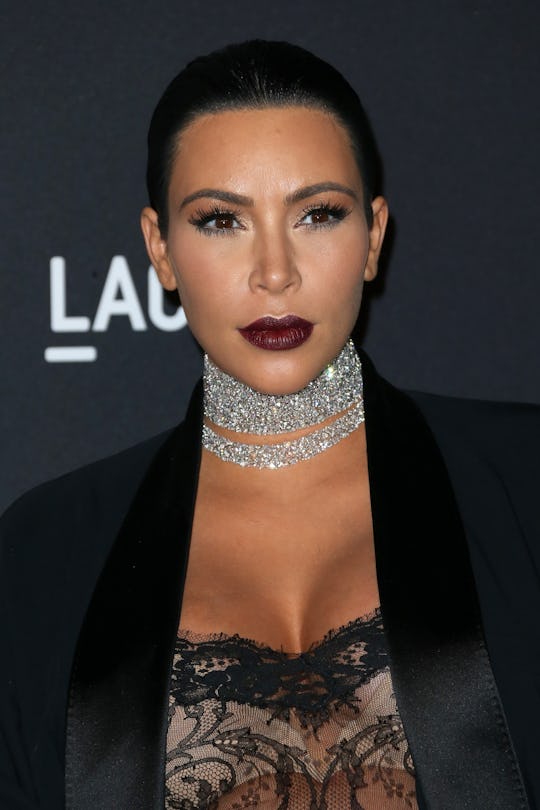 Frederick M. Brown/Getty Images
Did Kim Kardashian Reveal Her Son's Name? Her Push Present May Have Given Some Details Away
Hold on to your hats, Kim K lovers, because this might just be the biggest morsel of second baby news we've received yet. In a blog post about what she'd like for a push present (read: a present for giving birth that, yes, is actually a thing), we may have discovered Kim Kardashian's son's name. Well, the first initial, at least.
In the blog post, which she tweeted out to her followers on Friday night, Kardashian writes about the significance of the push present, and why she believes she deserves one for delivering her second baby, who is due right around Christmastime.
I like the idea of a push present — after nine months of pregnancy it's a sweet and well-deserved thank you.
The one thing Kim wants more than anything? A diamond choker — preferably a Lorraine Schwartz diamond choker. But if for some reason completely unbeknownst to the Universe that isn't in Kanye's budget, Kardashian was nice enough to list a few other options — including a necklace featuring the initial "N."
I know what you're thinking: Obviously it's for North. But, gentle reader, allow me to pose this scientifically backed conjecture: Why would Kardashian want a push present featuring the initial of her first baby, when she could have one featuring the initial of her NEW BABY.
And let's be honest: It would make complete sense for North West's little brother to have a name that also begins with N. Not to mention it would be mind-numbingly adorable. So even if Kardashian accidentally blew her cover all over the Internet, I'm still jazzed AF about it.
Taking this new and completely legitimate theory into consideration, here are some potential candidates for Baby Kimye No. 2's name:
Noel
Noel, in my opinion, is the most likely name for Kim and Kanye's new son, because a) lil dude is being born on Christmas, and b) Noel is Kim's middle name. Seasonally appropriate and meaningful, all at the same time.
Nadir
It's possible Kim will want to pay tribute to her Armenian roots, in which case, Nadir would be an amazing option. The name means "rare" in Arabic, and there's no doubt Kim's second baby will be one of a kind.
Noah
Not only is Noah the swoon-worthy male protagonist in The Notebook, but the popular baby name also has biblical connotations, which might be right up West's alley. Since, you know, he's God apparently.
Nelson
In his lifetime, civil rights leader Nelson Mandela was all about freedom and standing strong in the face of adversity, two things both members of this A-list couple are guaranteed to cherish.
Whatever Kim picks, I have no doubt it's going to be beautiful and perfect. You have to admit, North is a pretty amazing name. So I have no reason to expect less for Baby No. 2. But if that baby's name starts with an N, you know who you heard it from first.
Now if you'll excuse me, this tinfoil hat isn't going to construct itself.
Images: Frederick M. Brown/Getty Images, Giphy (5)