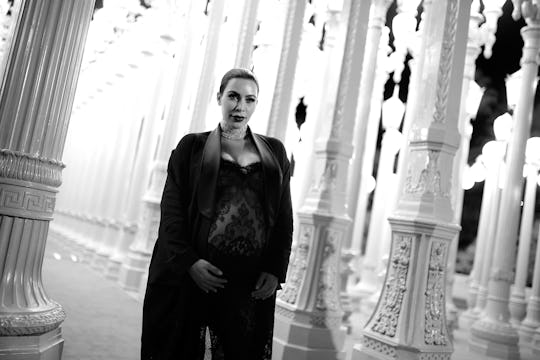 Did Kim Kardashian's Instagram Predict The Birth Of Her Son? She Certainly Seemed To See It Coming...
He was supposed to be a Christmas miracle. Kim Kardashian and Kanye West's son was born Saturday, weeks before he was supposed to be America's Gift on Dec. 25 — the original date the celebrity had planned the birth of her son. But, according to Kardashian's website, "mother and son are doing well" following his birth. But some of the shrewdest of fans should have seen it coming — after all, Kardashian's Instagram seemed to predict her son's birth.
On late Friday night, Kardashian posted a selfie of herself in the mirror, captioned, "Ready whenever you are lol." The reality star certainly seemed like she was ready to give birth at any moment — and with the media and the world eagerly awaiting her son's birth, it seemed to be a clue that he would be an early holiday gift. Of course, though Kardashian's website features a gorgeous picture of West and Kardashian hand-in-hand (on the way to the hospital, perhaps?), we haven't gotten an Instagram update since. But safe to say we'll see just as many photos of the celebrity's newborn as we currently see congratulatory messages to her on the photo itself.
There are still plenty of details we're waiting on when it comes to Kardashian's son (why the couple chose the name Saint West, his first photo, etc.), but, in the meantime, a preview of him right before he came into this world:
Can't wait to see him (and see him, and see him, and see him across the Internet and social media) very soon.
Image: Mike Windle/Getty