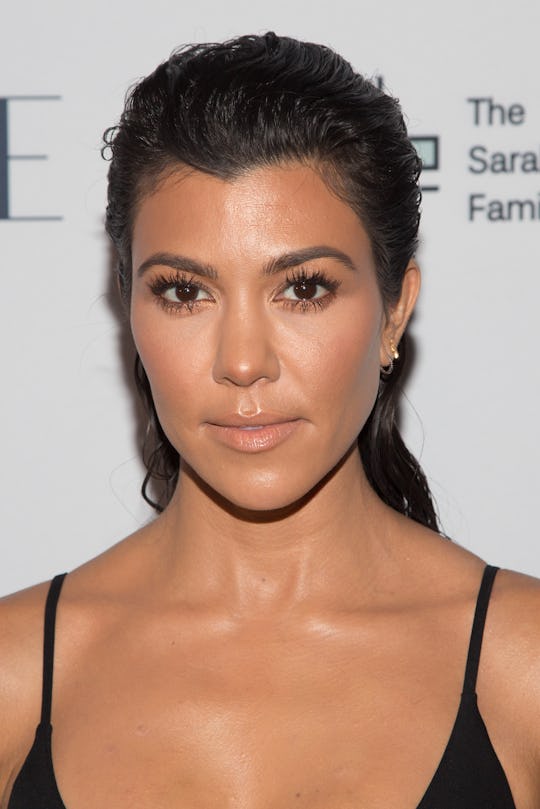 Gabriel Olsen/Getty Images Entertainment/Getty Images
Kourtney Is Not Taking Her Fight With Kim Lightly on 'KUWTK'
Keeping Up with The Kardashians is back, and it looks like Season 15 is bringing in a lot more drama this time around. In the debut episode of the season, Kim and Kourtney got into a fight over scheduling differences and priorities, which ended with some major insults and accusations. At the same time, Kim was getting ready to welcome her new baby, Chicago West, with a gorgeous cherry-blossom themed baby shower. But in the midst of all that fighting, did Kourtney go to Kim's baby shower? Much to everyone's surprise, Kourtney was a no-show.
Sure, the sisters have butted heads many times before, but this time around, Kourtney seems to be taking things more seriously. In a recent tweet Khloe explained how she has changed as a person. "Yes. In the past no one could get to me. I taught @KimKardashian how to fight dirty," she wrote. "But people grow, and just because we've always done it, doesn't make it ok. This season you will see the Kourtney who has feelings."
So what exactly happened between the two, and what did Kim say to hurt Kourtney's feelings so much? In the premiere episode of the season, Kim and Kourtney got into a heated argument over Kim's rescheduling of a Christmas family photo shoot. Kourtney — who wanted to make it home to put her kids to bed — felt as if Kim was being inconsiderate of her family time.
But Kim had important business meetings to juggle, so she felt as if Kourtney was just being difficult for no reason. "Maybe if you had a f*cking business that you were passionate about then you would know what it takes to run a f*cking business but you don't, so don't even act like you know what I'm talking about," Kim yelled, going on to say that no one wanted Kourtney in the shoot.
After Kourtney left Kim went on to say that her sister was the "least exciting to look at."
When the two tried to talk things out, Kourtney explained how hurt she was by Kim's words. "I'm just here to say that I'm not gonna spend my time, whether it's my sister or not, with anybody that talks to me that way or thinks that way about me," said Kourtney. "Your words have meaning and they come from somewhere. You didn't just make them up. It's really unkind."
After realizing how badly she hurt her sister, Kim did apologize, and made sure to invite Kourtney to her baby shower. But Kourtney didn't attend, which seemed to catch the family off-guard. "I really hoped Kourtney was gonna get over herself and just show up, but she didn't," said Kim. "So, I don't think she's big on family 'cause if she was, she would be at my shower."
In a the following week's episode, you can the sisters trying to work things through, and trying to find a solution to hash out their differences. But if their tweets are any indication, it looks like the tension is still lingering — even after filming the entire season. While live tweeted during the season premiere, Kim, Kourtney, and Khloé all snapped quips at each other, with Kourtney tweeting "We're ride or die. But I don't accept the way we criticize and judge each other anymore. My personal growth doesn't allow it."
From the outside, it seems like Kourtney is reevaluating her role in her family, and just wants to make herself and her children a priority. She may not have made it to Kim's baby shower, but fans are still hoping that the sister's make amends and put their differences to rest.