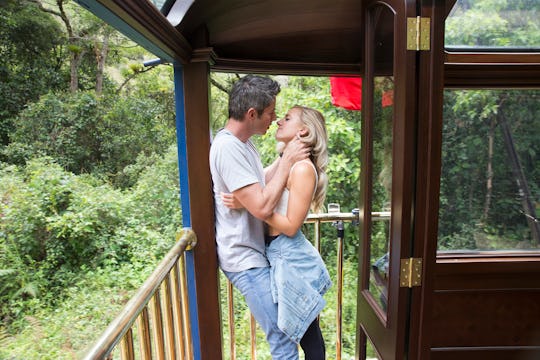 Paul Hebert/ABC
Lauren B. & Arie's Relationship After 'The Bachelor' Is Still Uncertain
It was the breakup heard (and predicted) round the world when Arie suddenly ended his engagement with Becca after the show had technically finished in order to pursue a relationship with Lauren B., his runner-up. So did Lauren B. and Arie get back together after The Bachelor? They've gotten a rocky start for sure, but they may be ready to give their relationship the old college try, even after Arie got engaged to someone else on the show. I guess the heart wants what it wants and there's no explaining it.
If you like to be spoiled in these things, then you'll have known about this development for a long time now. Early in the season Reality Steve reported that though Becca technically won the season, Arie had already begun having second thoughts. They were together when the show first aired on Jan. 1, though that is around the time Arie started reaching out to Lauren. According to Reality Steve's timeline, Arie and Becca broke up in the second week in January, and that's when he decided to see if Lauren would be willing to take him back after he broke her heart and just sent her packing several weeks prior.
While Becca was a front-runner on Arie's season from the very beginning, in the later weeks it became very clear that Lauren was pulling ahead and claiming a pretty important spot in his heart. Arie seemed genuinely torn between them, and has insisted pretty much nonstop that he fell in love with two women while he was on the show. I'm sure neither woman is totally thrilled with that, but it is the nature of the game. In the end, after an agonizing deliberation, he proposed to Becca in Peru, though we all saw him break up with her just a few weeks later.
The finale episode of The Bachelor showed Arie's agonized breakup with Becca in excruciating detail. Arie told her that he couldn't go through with their relationship because he was still feeling so strongly for Lauren. He went to bed thinking about her. He woke up thinking about her And the closer he got to Becca, he said the more he could feel any possibility he had with Lauren slipping away. Though that is exactly what is supposed to happen when you're engaged to someone (as Becca pointed out), Arie apparently couldn't live with that.
In his breakup with Becca, Arie made it pretty clear that he was only ending their engagement because of his strong feelings for Lauren. If Lauren hadn't been in the picture, I feel pretty confident that Arie would have stayed married to Becca. In their breakup Arie also revealed that he had called Lauren and spoken with her (though at least he had the decency to tell Becca about it). So does this mean that Arie and Lauren are together now? Does Lauren now have Becca's giant Neil Lane diamond ring?
The episode ended without giving audiences that final piece of the puzzle. I will say that if Arie is willing to make himself possibly the Most Hated Bachelor on the show and break the heart of a woman he claimed to care for, he should at least have the guts to pursue this relationship he apparently can't stop thinking about. Now, if Lauren accepts him after he broke up with her, proposed to someone else, then ended that engagement after just a few weeks, well that's an entirely different question. We'll just have to see.
Check out Romper's new video series, Romper's Doula Diaries:
Watch full episodes of Romper's Doula Diaries on Facebook Watch.