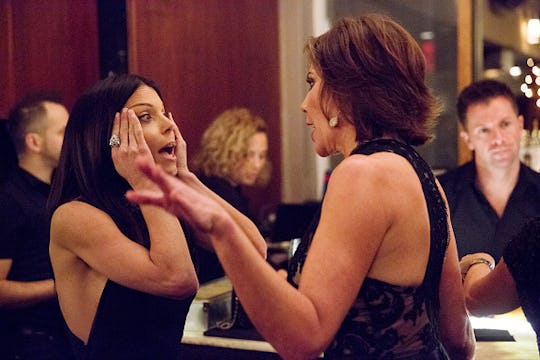 Heidi Gutman/Getty
Did Luann De Lesseps Think Of Skinnygirl? Bethenny Will Go To War For Her Brand
On Wednesday's episode of The Real Housewives of New York, the ladies gathered at Dorinda's home in the Berkshires for a dinner party/slumber party around the holidays. Well, everyone except Sonja Morgan, that is, who was still neck deep in the midst of her feud (more like a war) with Bethenny Frankel over her Tipsy Girl prosecco, which Bethenny argues is a direct ripoff of her Skinnygirl brand. Countess Luann de Lesseps, who is currently roomies with Sonja, tried to defend the absent Housewife, and it did not go well. Luann went so far as to allege that she helped Bethenny come up with Skinnygirl, or at the very least, they were together. But Bethenny was. Not. Having. It. She considered that claim laughable, at best, but Luann was firm. So, did Luann think of Skinnygirl?
This is an old feud. Bethenny conceived Skinnygirl as a margarita that was low in calories, one that women could enjoy without the "guilt" of a full-calorie margarita. I'm just going to say here and now that I have literally never felt guilty about drinking a margarita, but I'm not going to tell you what to do. Bethenny's Skinnygirl empire grew and she ended up selling the company for an estimated (and officially undisclosed) $100 million.
Luann has maintained throughout the years that she was with Bethenny when Bethenny came up with the concept and therefore, somehow, helped Bethenny create it. Season 7, Heather Thompson laughingly suggested that Bethenny owes Luann money for it. Needless to say Bethenny was not pleased, just as she was not pleased when Luann brought it up at the Berkshires dinner.
However, many times Luann repeated "we were together," Bethenny scoffed, each time more and more irritably. And I get it. Well, I would get it if I were in Bethenny's position. It must be incredibly frustrating for her to have created an entire, wildly successful brand from scratch only to have others try and claim credit for it, or at least ride on its coattails. But the thing is, nobody is actually trying to take Bethenny down, or somehow minimize her success.
Even Luann has never tried to seriously claim credit for coming up with Skinnygirl, she'd just like acknowledgement that she was there when it started, please. At least I think that's what she's saying. Though I understand Bethenny's frustrations, and though she is the first to admit she's sometimes a bit abrasive, laughing hysterically at Luann when she opined that she too was something of a mentor to Sonja was just straight up rude. I get that you're trying to defend your brand, but this is not Game of Thrones. Nobody is trying to take your crown, so maybe relax?