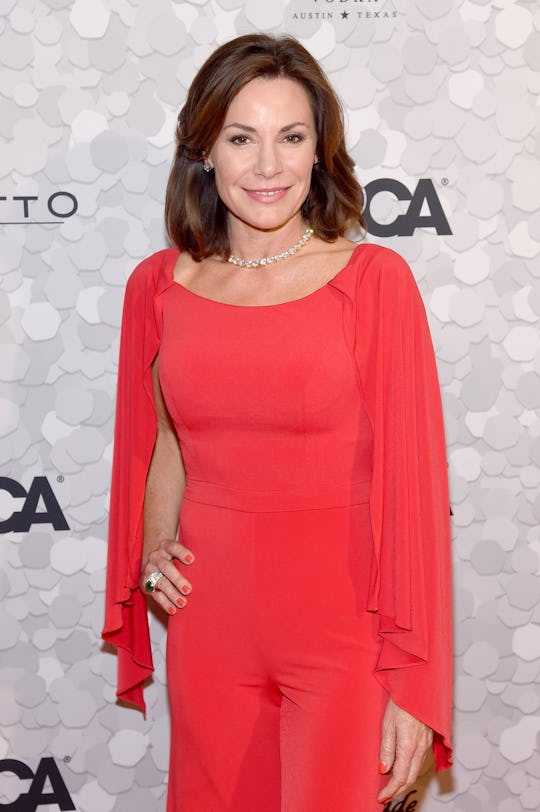 Jamie McCarthy/Getty Images Entertainment/Getty Images
Here's What Happened After Luann De Lesseps Got Arrested
Last December, it was widely reported that Real Housewives of New York star Luann de Lesseps had been arrested in Palm Beach, Florida on Christmas Eve for disorderly intoxication, battery on an officer, resisting arrest with violence, and threatening a public servant. Her smirking mugshot quickly became the stuff of Real Housewives legends, and Palm Beach is officially somewhat cursed for RHONY stars. (It's also the site of Tinsley Mortimer's arrest.) So fans who are now watching Luann's ordeal play out on the show may be wondering: did Luann go to jail? She admits that she's been changed by the experience.
Luann appeared before a judge on the same night of her arrest and was ultimately released on her own recognizance. So if she did spend any time in jail, it would only have been in a county facility for a few hours until she was seen by the court. But Luann has publicly discussed "going to jail" when speaking about the details of that night, so it would appear that her brief time spent behind bars felt impactful.
"You lose a lot of friends when you go to jail," she told People back in April. "I think guys become less interested when you go to jail and rehab. I haven't even thought about a guy."
"I just have to avoid certain people," Luann continued. "I lost a lot of drinking buddies. Let's put it that way. But you know what, that's okay. I have room for the good ones."
Following her arrest, Luann decided to cancel her plans to travel to South America after New Year's and check into a rehab facility instead. She claims she hasn't resumed drinking since, but, interestingly, her fellow Real Housewives (and erstwhile drinking buddies) have become some of her most supportive friends during this time. "The Housewives can be really bitchy sometimes, but when push comes to shove and you're down and you need to be picked up, the ladies were right there for me," she said.
Alcoholism has been an unfortunate running theme on the past few seasons of Real Housewives of New York. Sonja Morgan's drinking had become a concern for several of the cast members, with some going so far as to avoid inviting her to events where there would be heavy drinking for fear of how she might behave. Sonja admitted at the beginning of Season 10 that she had gone on anti-depressants last year, put on weight, and generally felt in a funk. She planned a detox trip to Costa Rica, weaned herself off her meds, and reported feeling healthier as the season began filming. Her drinking has seemed in check so far this season.
Then, on a trip to Puerto Rico, Bethenny confronted Dorinda with a concern that she was "a drunk," and Dorinda confessed that she had been feeling lonely and newly distressed over the unforeseen circumstances of her early widowhood. Luann's heavy drinking had mostly been framed as lighthearted up until now — her drunken tumble into the bushes in Mexico last season is widely celebrated as a highlight of Season 9. But Luann did feel after her arrest as though her drinking had become a problem.
"Unless I was humiliated publicly, I don't think I would have done anything," she told People. "This was a warning. It was meant to happen so that I could take a step back and look at myself in a different way. I'm grateful to the universe for making me change my life."
We'll obviously see more footage of Luann in the days following her arrest when the episode featuring the incident airs on Wednesday, June 6. Presumably, we'll get more reactions from the cast, too.