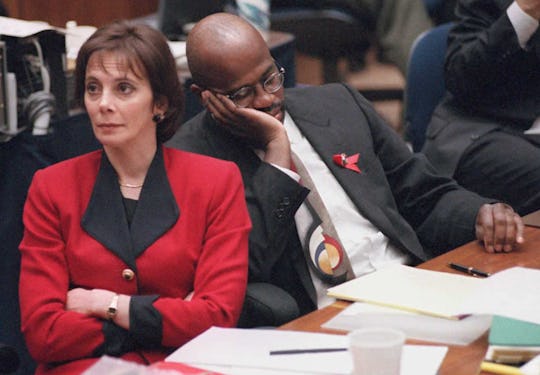 Vince Bucci/AFP/Getty Images
Did Marcia Clark & Christopher Darden Date? Each Side Seems To Have A Different Story
The People v. O.J. Simpson: American Crime Story, which recounts the murder trial of former NFL star O.J. Simpson, has everyone reliving the biggest news story of the '90s. And it's funny to remember small details that you might have missed in the papers and on television as a young person. The gossip back then was just as hot as it is now. But, really, did Marcia Clark and Christopher Darden date during and after the trial?
Now that American Crime Story has reached the point where lawyer Darden has joined the prosecution, there are scenes between that two that show some real chemistry. Although it's easy to brush it off as a tactic showrunner Ryan Murphy would use to keep modern viewers interested in the story — there were actual headlines about Clark and Darden getting it on during the trial, though Clark denied the rumors at the time.
But Darden wasn't so shy. He alleged in his book In Contempt that the two were a little more than just friends. Darden wrote that he and Clark were "two passionate people thrown together in a trial that left us exhausted and lonely." He also claimed that he had helped Clark through her divorce and custody depositions in addition to spending long nights together, writing
We sat up listening to hip-hop and R&B. We danced a few times and drank a few bottles of wine. In my mind, that is a relationship.
According to various outlets at the time, Clark and Darden reportedly went out to "nightclubs" (that's what they called them back then, I guess) together and went on a post-trial getaway together to San Francisco. The New York Post even quoted sources in 1995 from the Los Angeles prosecutor's office who claimed that the romance was common knowledge. Apparently people called it the one good thing to come out of the "wretched" trial.
Alas, who knows what happened between them. Clark never remarried, though she claims she's enjoying the dramatized version of her life on FX. Darden, strangely, married another Marcia in 1997 and they are still together.
Regardless of what really happened, Twitter seems to be feeling the Clark-Darden pairing on the show:
It makes sense that the two would fall for each other. They had to spend a lot of time together and they were also two of the most hated people in America (in certain circles) throughout the trial. Anyone remember that Goodie Mob song? Of course they cuddled up together if only for some support. Apparently, it's not just something you see on The Good Wife. Who knew?
Clark and Darden's relationship was so well known back in the day that even The Unbreakable Kimmy Schmidt gets in on the joke. The final episodes of season one feature Tina Fey playing Clark and Jerry Minor as Darden trying to prosecute the obviously guilty Reverend Richard Wayne Gary Wayne. Get it?
Although the two attorneys didn't end up together, it's definitely a bonus that American Crime Story includes references to their real life relationship during the trial — a little sexual tension to counterbalance the racial tensions. And if the real life Darden and Clark aren't totally thrilled about the portrayal of their handling of the case, hopefully they'll be happy the writers got something right about them.