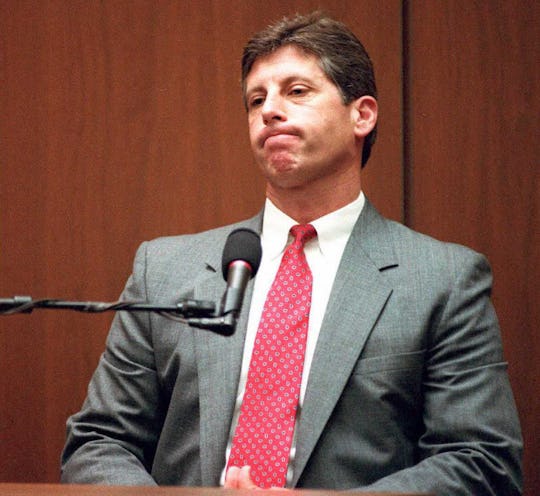 Ken LUBAS/AFP/Getty Images
Did Mark Fuhrman Plead The 5th Amendment? His Time On The Stand Was Important
Part of the allure of the O.J. Simpson trial — sometimes referred to the first reality show, ever — was that everything was public. People could follow along with the trial from the constant media coverage or the actual cameras allowed in the courtroom. Everything was accessible during the O.J. Simpson trial, including the Mark Fuhrman tapes. In The People v. O.J. Simpson, Fuhrman pleads the fifth while taking the stand, which might lead you to wonder if that really happened. Well, just like most of the trial, the resources are at hand to discover the truth.
The Fuhrman tapes changed the course of the trial, shifting it from a murder trial — of which O.J. Simpson was found not guilty — to a trial about race. In the tapes, Fuhrman uses racial slurs which hurt an already crumbling prosecution case. The tapes came into question when the defense claimed that Fuhrman was a racist who possibly planted the second bloody glove to frame Simpson. In an earlier testimony, Fuhrman swore on the stand that he had not used the n-word in the past 10 years.
The defense fought for the tapes, recorded by Laura Hart McKinney — a screenwriter — to be played in court, since they would, in fact, prove that Fuhrman did use the n-word in the past 10 years. For example, a transcript of the trial presents this moment in the audio recordings McKinney provided that shows that Fuhrman had used the n-word.
People there don't want n*ggers in their town. People there don't want Mexicans in their town. They don't want anybody but good people in their town, and anyway you can do to get them out of there that's fine with them. We have no n*ggers where I grew up.
So, when it was time for Fuhrman to take the stand again — this time, after the tapes were played in court (without the jury present) — he took a different approach to the questioning. As the Los Angeles Times reports, "After each question, Fuhrman leaned over, whispered to his attorney and then sat stiffly straight to answer: 'I wish to assert my 5th Amendment privilege.'"
With the help of some dramatic background music, you can watch a clip of Fuhrman asserting his 5th Amendment right below.
Clearly, this was a turning point in the trial, as it suddenly brought into question one of the biggest pieces of evidence the prosecution was able to present — the bloody glove. According to the previously mentioned Los Angeles Times, the jury was not present during this part of the trial, but was informed later that Fuhrman had asserted his 5th Amendment right.