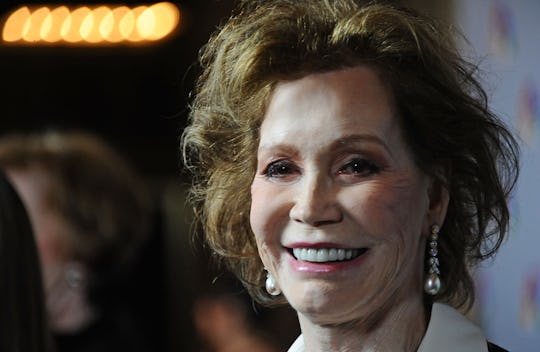 Angela Weiss/Getty Images Entertainment/Getty Images
Is Diabetes To Blame For Mary Tyler Moore's Death?
It didn't take long to the 2017 Grim Reaper to strike. On Wednesday. Jan. 25, legendary actress Mary Tyler Moore passed away, leaving behind a legacy that would not soon be forgotten. As word of her death made her way around the internet, many wondered if Mary Tyler Moore died from diabetes or if something else took her life.
Earlier on Wednesday, TMZ reported that Moore was admitted to the hospital and deemed in critical condition. According to the outlet, her condition was so serious that family members made their way to the hospital to say their final goodbyes. And it's a good thing they did, as the 80-year-old icon passed away in the early afternoon. In a statement to Romper, Moore's longtime representative Mara Buxbaum said:
Today, beloved icon, Mary Tyler Moore, passed away at the age of 80 in the company of friends and her loving husband of over 33 years, Dr. S. Robert Levine. A groundbreaking actress, producer, and passionate advocate for the Juvenile Diabetes Research Foundation, Mary will be remembered as a fearless visionary who turned the world on with her smile.
Buxbaum is not wrong. A performer from a young age, Moore started acting in her teens. It wouldn't be long till Moore got her big break, starring opposite screen legend Dick Van Dyke in The Dick Van Dyke Show, according to IMDB. The role as the sweet, but strong wife opened many doors for Moore, eventually leading to her starring in Rhoda and Mary Tyler Moore and stealing American's hearts.
But it wasn't all spotlights and stardom for Moore. In a 2010 interview with the Archive of American Television, Moore revealed that she had been diagnosed with Type 1 diabetes and suffered a miscarriage in the same year — 1969. She decided to keep both things under wraps not only to protect herself but to protect her numerous projects.
"Back then, nobody really knew what diabetes was," Moore said in the interview. "My concern about talking about it was that it would be distracting for an audience."
Eventually, however, Moore opened up about her disease and used her celebrity status to build a platform to talk about diabetes. In 2011, Moore became the international chairwoman of the Juvenile Diabetes Research Foundation (JDRF), which meant lobbying for diabetes research, testifying before Congress , and participating in public service campaigns. In this role, she worked closely with the Children's Congress team to lobby for funds for juvenile diabetes research. Essentially, after diabetes became a part of her life, she made ending it part of her life.
But diabetes was not the only physical obstacle for Moore. In September of 2016, People exclusively reported that Moore underwent brain surgery to remove a benign tumor. In a statement to the publication, Buxbaum said a neurologist had been monitoring the situation for years and suggested Moore undergo the "fairly routine procedure."
At the time of publication, it is unclear if Moore passed form complications with diabetes or from her surgery five months prior. What is clear, however, is that Moore left behind a legacy on and off the screen that won't soon be forgotten.