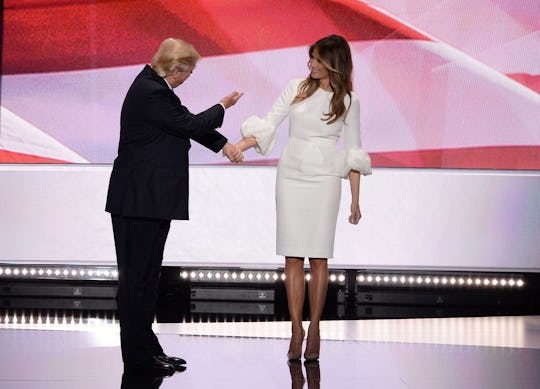 ROBYN BECK/AFP/Getty Images
Did Melania Trump Attend University? Biographers Turned Up Conflicting Reports
Presidential candidate Donald Trump loves the limelight. He thrives under the close eye of the media. The same can't be said of his wife, Melania Trump, who, for the majority of his campaign, stayed home. When she did finally go on national television to speak in support of her husband at the Republican National Convention, things did not go so well. She was rightly accused of plagiarizing portions of her speech from none other than First Lady Michelle Obama. The incident has left many wondering what else about her and her husband's lives has been fabricated? For instance, did Melania Trump attend university? Her biographers say she didn't, but her website says she did. Who to believe?
According to her personal and professional website, Trump began modeling when she was just 16 years old, but she did not dedicate herself to her career until after she finished university. Her bio says that she obtained a degree in design and architecture from a university in Slovenia.
But according to the Slovenian journalists Bojan Pozar and Igor Omerza, that biography is far from the truth. They teamed up to write a book on Trump's life, and in their research they found that Trump did attend university — but she dropped out after her first year, never getting her degree. Her plagiarism raised questions about her educational claims, seeing as plagiarism is widely punishable at higher education institutions around the world. Those who doubt her now appear to be in the right, according to Politico.
According to Pozar and Omerza's book, Melania Trump — The Inside Story: From a Slovenian Communist Village to the White House, she was most likely instructed to stretch the truth by her husband. They wrote:
In her freshman year, the 19-year old Melanija Knavs attended lectures on the following subjects: elements of architecture, fine arts, fundamentals of technical mechanics, architectural construction, descriptive geometry, mathematics, and an ideological (read "communist") elective credit called "General Partisan Resistance and Social Self-protection". Melanija would have made it to her sophomore year, even having failed 2 exams, but she was supposed to have gotten and held a 1-month internship and kept a journal about it. [...]
Later, in America, after meeting Donald Trump and officially becoming his partner, Melania Knauss told the media that she got her degree in architecture and design. This was almost certainly done in consultation with Trump and his advisors, as they were desperate to give off the impression that the Slovenian model was not just beautiful, but also smart and well-educated.
While no action has been taken on this and other instances of falsehood, it puts yet another crack in the Trump Campaign's legitimacy.