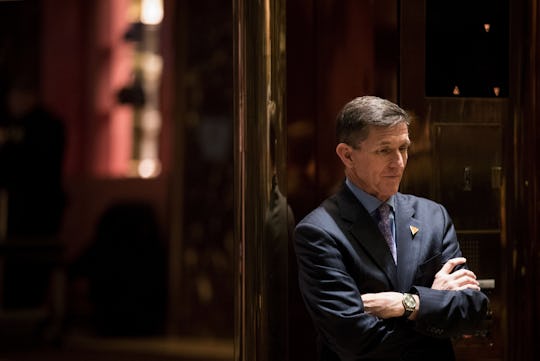 Drew Angerer/Getty Images News/Getty Images
Did Michael Flynn Delete Tweet About Fake News Conspiracy? It's No Longer On His Timeline
After President-elect Donald Trump named retired Lt. Gen. Michael Flynn his pick for national security adviser, many were quick to point out Flynn's apparent affinity for fake news — throughout the presidential campaign, the retired general had linked to several false stories on social media, drawing his fair share of criticism from the public and the media. However, if you go to Flynn's Twitter page now, one tweet to a fake news story (which falsely linked Democratic presidential nominee Hillary Clinton to sex crimes with children) seems to be missing. Did Flynn delete his fake news conspiracy tweet?
According to CNN, the Nov. 2 tweet quietly disappeared from Flynn's Twitter account this week. The tweet contained a link to a TruePundit article that falsely claimed that an FBI investigation had linked Clinton to "money laundering, child exploitation, sex crimes with minors, perjury, pay to play through Clinton Foundation, obstruction of justice," and "other felony crimes." Flynn's tweet, still visible thanks to an internet archive, read:
U decide - NYPD Blows Whistle on New Hillary Emails: Money Laundering, Sex Crimes w Children, etc...MUST READ!
It's still unclear whether Flynn chose to delete the post himself, or whether Trump's transition team instructed him to do so. Romper has reached out to the transition team for clarification, but has yet to hear back.
Flynn's son, Michael G. Flynn, was fired from Trump's transition team after it came to light that, during the presidential campaign, he had spread fake news about Clinton's connection to a pizzeria-run child sex trafficking ring. "Until #Pizzagate proven to be false, it'll remain a story," he tweeted on Dec. 4. "The left seems to forget #PodestaEmails and the many 'coincidences' tied to it." That false news story ultimately led to a shooting inside Comet Ping Pong, a pizzeria in Washington, D.C. — highlighting the very real repercussions fake news stories can have.
It could be that the negative attention Flynn's promotion of fake news received caused him or Trump's transition team to delete the tweet. Following this year's surprising election results, there has been plenty of analysis on the role fake news played in the election, with plenty of harsh feedback directed at those who promoted false stories. While the damage caused by misleading stories (such as the ones Flynn shared during the election) cannot be undone, at least the deletion of his tweet seems like silent acknowledgement that it should never have been posted in the first place.