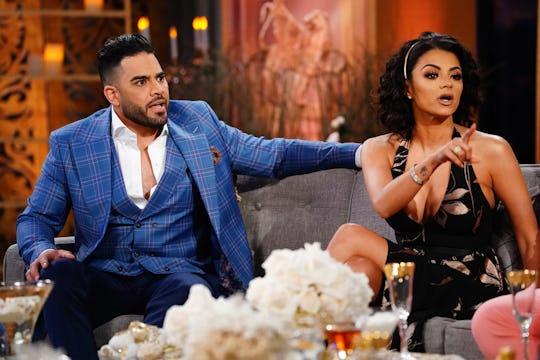 Nicole Weingart/Bravo
Mike Shouhed's Comments About Destiney Rose Came Up On The 'Shahs' Reunion
The trouble with reality shows is that the drama never sleeps; even after the cameras have stopped rolling, the cast is still stirring things up. For example: during the Shahs of Sunset Season 7 reunion, host Andy Cohen decided to bring up comments Mike Shouhed had made about Destiney Rose while being interviewed by Jeff Lewis. He had implied that she wasn't straight. But wait — did Mike Shouhed out Destiney Rose on Shahs of Sunset?
Technically he didn't, because it doesn't seem like Destiney identifies as any letter in the LGBT+ acronym. But he did say that he thought she might like women. Regardless of the veracity of that statement, it's absolutely not Mike's place to make any comments about Destiney's sexuality. If she was closeted, then it would be a huge breach of privacy to announce it before she was ready. But Mike later clarified that he was only joking, and both Destiney and Mercedes "MJ" Javid stated that they thought he said it in the first place to get attention.
All three of them discussed the situation in various appearances on Watch What Happens Live With Andy Cohen. In late October, Mike said, "Yes, I was joking. I love her. It was just stupid, and I apologize."
In her own visit to WWHL, MJ addressed the situation after a caller brought it up. "I'm really glad you asked that question, and he should not do that because it's not her sexual preference," she said. "If someone says that they're straight, you should respect that. So he's taking a joke too far because she doesn't give him enough attention. That's his way of dealing with it."
Destiney herself seemed to mostly agree with that assessment. While talking to The Daily Dish, she implied that Mike said she wasn't straight because she wasn't interested in him personally. "There's always got to be something if you're not feeling him," Destiney said. "There's always some kind of excuse. It can't just be because of him. It can't be because of him, like you're just not feeling him."
In her own appearance on WWHL in early October, Destiney elaborated on that, saying:
The first thought that came to my mind is that every female has encountered one of those kids in high school that was like sprung on the cheerleader, the cheerleader didn't give him the time of day, and because of that goes around and spreads rumors. That's the kind of vibe I got.
She noted that she was the cheerleader in this scenario and Mike was "that nerd who wants attention from the cheerleader and is not getting it and because of that he makes up these stupid a** things." Apparently he's said other things about her that weren't true as well.
The entire situation doesn't reflect well on Mike at all. If he had outed a friend, then that would have been cruel. But his comments being a juvenile joke aren't much better, especially since they seem to have been motivated by the fact that Destiney isn't romantically interested in him. Whoever Destiney wants to date is her business — not his.
This first-time mom wants to have a home birth, but is she ready? Watch how a doula supports a military mom who's determined to have a home birth in Episode One of Romper's Doula Diaries, Season Two, below. Visit Bustle Digital Group's YouTube page for the next three episodes, launching every Monday starting November 26.