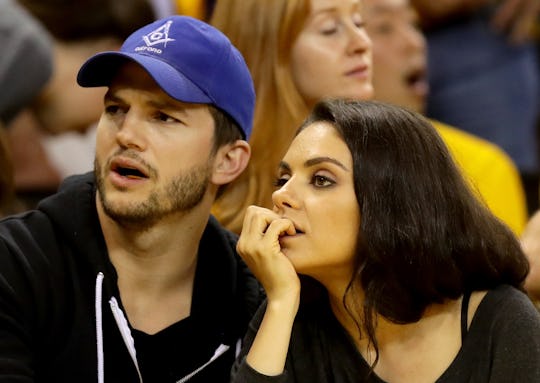 Ezra Shaw/Getty Images Entertainment/Getty Images
Did Mila Kunis & Ashton Kutcher Want A Baby Boy? He May Already Be Here
Bad Moms and Black Swan star Mila Kunis is a mom for the second time, E! News reported this week. Just eight weeks after her husband, Ashton Kutcher, accidentally revealed on the Today show that the couple was expecting a son to join their 2-year-old daughter, it seems that the big day has arrived. The newborn's name is not yet public, but Ashton's excited discussion about his soon-to-be son shows that Kunis and Kutcher likely already wanted a baby boy long before they ever learned that's what they were getting.
Update: In an email to Romper on Thursday evening, Kunis' representative confirmed that the couple had welcomed their second child, a boy.
Because the new baby was reportedly born Wednesday, just one day before the news went public, both Kutcher and Kunis are likely quite preoccupied right now — after all, they just transitioned from playing "zone" defense with one child to "man-to-man" with two, as Kutcher put it during the same October Today interview with host Samantha Guthrie, where he spilled the baby's sex. And just getting ready for all that and the responsibility that comes with it, he told Guthrie at the time, is "intensely scary," leaving him "a little terrified."
Still, the whole family was clearly enthusiastic about the prospect of adding a little boy to the clan, including Wyatt, the pair's toddler daughter. She was excited about her new sib, even if she wasn't totally sure what it all meant, as Kutcher — who's currently starring in the Netflix comedy The Ranch — adorably described:
She points to Mila and she's like, 'baby brother' when she points to the belly and then she points to dad and she goes, 'Beer!' So I think she gets there's something in the belly but I don't quite think that she knows that it's not going to be a plastic doll yet.
It's been an unexpected — if long-time-coming — journey for Kunis and Kutcher, who didn't start dating until after they starred on That '70s Show together between 1998 and 2006. But when they reconnected in person at an awards show after filming had wrapped, there was an instant attraction. "We started dating with the idea we were both never going to get married," Kunis said on The Howard Stern Show in July. "A year later we were like, 'Tomorrow let's [get married].'"
They did just that in 2015, and now that the as-of-yet unnamed little one, they're a happy family of four!