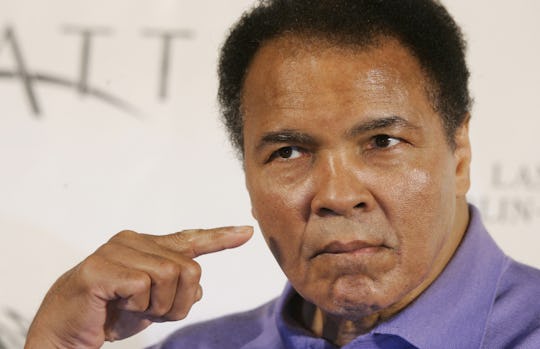 MICHAEL KAPPELER/DDP/Getty Images
Did Muhammad Ali Have Kids? The People's Champion Has A Huge Family
Following the news that The Greatest of All Time, Muhammad Ali, died on Friday. A family spokesperson confirmed to NBC News that the boxing legend died at a Phoenix-area hospital on Friday at the age of 74. He'd been in the hospital and was treated for respiratory complications. And as the world mourns the passing of one of the most iconic, legendary, and influential athletes, it's impossible to overlook what this loss means to Ali's family. Did Muhammad Ali have kids? Was he married?
Ali had nine children from four different marriages: Laila Ali, Rasheda Ali, Hana Ali, Assad Amin, Maryum Ali, Jamillah Ali, Khaliah Ali, Muhammad Ali, Jr., and Miya Ali. Today is no doubt a day of mourning and reflection for the entire Ali family. Though Ali was very much a public figure and an icon in the boxing ring, his loss is still an incredibly personal moment for his family. Laila Ali, who grew up to become a boxer like her father, posted a picture of the two of them on her personal Facebook page of her dad holding her daughter — his granddaughter — that says, "I love this photo of my father and my daughter Sydney when she was a baby! Thanks for all the love and well wishes. I feel your love and appreciate it!"
And his other children have taken to various social media platforms to share their thoughts, feelings, and well wishes to fans who are mourning around the world. His daughter, Hana, shared a touching tribute on Twitter:
Hana also posted a photo from last year on the fighter's 73 birthday of a handmade scarf she'd knitted him:
His son, Assad Ali, posted this sweet, touching dedication on his personal Twitter and Instagram pages:
Though not all of the Ali children have taken to social media to commemorate their late father, you can tell that the love runs thick for the Ali family. His passing is, no doubt, a loss to us all, but when you think about the man who was such a mainstay of his children's lives, last night, today, and all of the coming days and weeks and "milestones" ahead will be hardest. Ali was very much The People's Champion, and he leaves a long, storied, and proud legacy behind for each one of his children, but the people's man was also a family man. And right now, it's all about celebrating and respecting the gravity of their loss. I can't imagine the depth and emptiness of their loss. But I hope they know that the rest of the world is mourning with them.