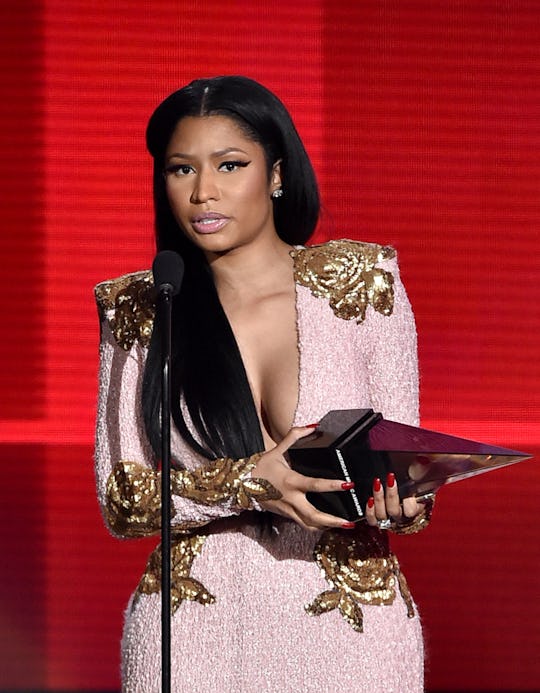 Kevin Winter/Getty Images
Did Nicki Minaj Diss J. Lo At The AMAs? Honestly, The Singer Seemed Unimpressed By A Lot Of Things Last Night
The 2015 American Music Awards aired Sunday night, and pretty much everyone is talking about this morning is how Nicki Minaj threw shade at J. Lo while watching her dance to Minaj's hit, "Anaconda." There are vines, tweets, and gifs galore of the incredible side-eye moment, and, really, there are few things more entertaining than Nicki Minaj's totally badass, super confident, not-even-sort-of-afraid-to-stand-up-for-herself attitude. (Remember her comments about "Anaconda" not being nominated for Video of the Year at the MTV Music Awards?) But while the majority of stories from last night involving Minaj focus on a supposed beef between the two stars, it seems like there was much more to it than just being vaguely unimpressed with J. Lo's moves. (Which, honestly — how could you be? J. Lo pretty much owned the stage last night, which is especially impressive considering that she is 46.)
I watched the whole show praying for more amazingly annoyed-and-maybe-a-little-confused Nicki Minaj facial expressions, and seriously, girl did not disappoint. Despite winning two awards, giving eloquent speeches, and looking flawless the entire night, Minaj just didn't seem pleased to be there. And she didn't even try to hide it, either.
There was the much-buzzed "Anaconda" eye-roll:
But upon closer inspection of some of the best Nicki Minaj Resting B*tch Face moments of the night, it sure seems that her issue was less with J. Lo in particular, and more that she even had to be there in the first place. Let's just rewind a bit to last night, shall we?
And, in fact, Minaj has specifically come out on Twitter denying that she had any hard feelings towards Lopez' performance at all, clarifying that she was just watching herself on the screen. (And, since Minaj isn't exactly one to hide her feelings, she's probably telling the truth.)
Hey, at least she's keeping it real, right?
Image: Kevin Winter/Getty Images