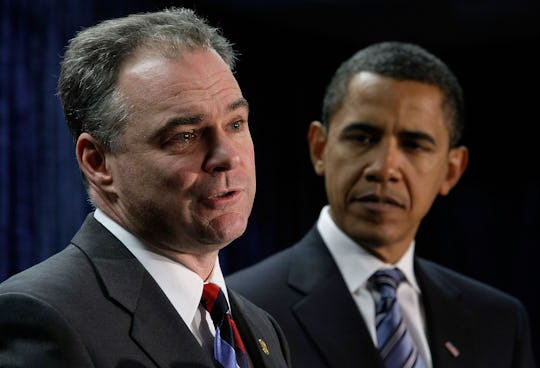 Alex Wong/Getty Images News/Getty Images
Did Obama Almost Choose Tim Kaine As His VP? The Virginia Sen. Was A Top Contender
After weeks of speculation, Hillary Clinton named Tim Kaine to be her running mate on Friday evening. The Virginia senator was widely considered to be one of the safest and most appealing choices for Clinton's VP, not only by political analysts and Clinton's campaign team, but President Barack Obama was also in favor of the choice. Obama's support may have some questioning: Did Obama almost choose Tim Kaine as his VP? Kaine, who has worked for nearly 20 years in politics, endorsed Obama early on during his presidential bid in 2008 and later on made Obama's vice presidential shortlist, then chaired the Democratic National Committee just after Obama took office.
"Like Hillary, Tim is an optimist. But like Hillary, he is also a progressive fighter," Obama wrote in a Democratic Party fundraising email sent on Saturday. "Simply put: Tim is a good man. He's a true progressive. And he will make a great vice president."
Eight years ago, Obama considered naming Kaine as his running mate and ultimately decided on Vice President Joe Biden.
"You can pick someone for purely political reasons -- or you can pick someone who will be your partner in government," Obama wrote in the email that was sent by the Hillary Victory Fund. "Someone who shares your values. Someone who will make you a better president. That's why I picked Joe Biden -- and it's a testament to Hillary's character and integrity that she chose a man like Tim Kaine."
According to The Washington Post, White House press secretary Josh Earnest said Obama provided some advice to Clinton on the VP vetting process and threw in Kaine's name as a qualified candidate.
Earnest told The Washington Post that Obama often calls his selection of Biden as his running mate as "the smartest political decision that he has ever made."
"So when you consider how well that turned out, it seems natural that Secretary Clinton might consult President Obama about the process that he undertook to choose Vice President Biden," Earnest continued to tell reporters during a White House briefing, according to The Washington Post.
Obama has praised Kaine's long and liberal political career, during which he's never lost an election against his opponents. Even though Kaine hasn't always been #WithHer — the senator backed Obama presidential bid in 2008 instead of Clinton — he's been publicly behind Clinton's campaign since 2014 and has campaigned with her during several events in Virginia during this election season.
"There aren't a lot of elected officials in Washington whom people like even more when the cameras are off than when the cameras are on. But Tim is that kind of guy," Obama concluded fundraising email sent after Clinton's announcement. "He's a man who's risen to the highest levels of government but still lives in the same neighborhood he did as a city council member in Richmond. You just can't find anyone with a bad thing to say about him, from the staff who've worked for him to the Republicans who've served alongside him."