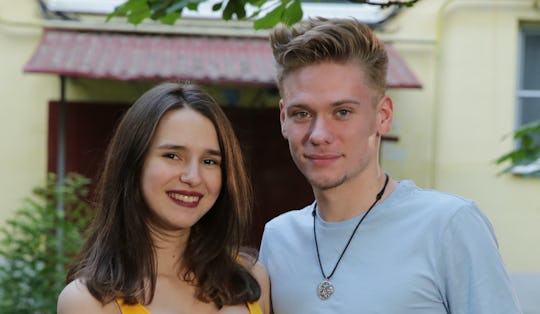 Courtesy of TLC
Here's Whether '90 Day Fiance' Couple Olga & Steven Got Married
On this season of 90 Day Fiancé, Olga and Steven have been one of the most dramatic couples — and that's saying a lot. The two 20-year-olds welcomed a baby together earlier this year, and Olga moved to Maryland so she, her fiancé, and their son could all be together. However, their constant fighting has fans wondering: Did 90 Day Fiance's Olga and Steven get married?
Based on all the evidence I can find, it seems like Olga and Steven may not be married, but they are still together. Usually, if a 90 Day Fiancé couple is still posting photos with each other by the time the show airs, they are still together — and married. And both Olga and Steven's Instagram pages are filled with shots of the couple, as well as of them with their son. However, there's one thing that's a little different — based on recent photos, the couple seems to be in Russia, where Olga is from. Before a 90-day K-1 visa expires, an engaged couple must either get married, or the non-American must leave the country. By the looks of it, Olga returned to Russia — and Steven may have come with her.
In an Instagram post earlier this week, Steven shared a few photos with Olga and their son that appear to have been taken in Russia. "Family comes first, and I appreciate all you do for our family and our little one," Steven captioned the post, in dedication to Olga.
Editor's Note: The Instagram post has since been deleted.
And in late November, Olga shared a photo of the family of three (look real close and you'll see their little boy) in front of the fountain of friendship of the people in Moscow, Russia.
And in late October, Olga posted a photo of the couple in Moscow's Red Square.
Olga got pregnant during a brief romance with Steven in the summer of 2017. After returning to Russia, the couple decided to get engaged so that Olga could live in the United States. But before leaving Russia, Olga delivered their baby, Richie Aleksandr Frend, on April 19, according to a post on Steven's Instagram. Steven was present in Russia for the birth their son, who goes by Alex. Since their son, who is now 8 months old, looks to be pretty big in the recently posted photos from Russia, it definitely seems like that's where the little family is based these days.
But whether the couple actually is married or not, their recent Instagram posts make it very clear that they are still together. "I know Steven better than every single one of you," Olga captioned a recent post. "If you all care so much for my well being, let me be happy and live my life the way I want to. Love. Peace."
Here's hoping that by the end of this season of 90 Day Fiancé, fans have an answer about Olga and Stephen's engagement.
This first-time mom wants to have a home birth, but is she ready? Watch how a doula supports a military mom who's determined to have a home birth in Episode One of Romper's Doula Diaries, Season Two, below. Visit Bustle Digital Group's YouTube page for the next three episodes, launching Mondays in December.