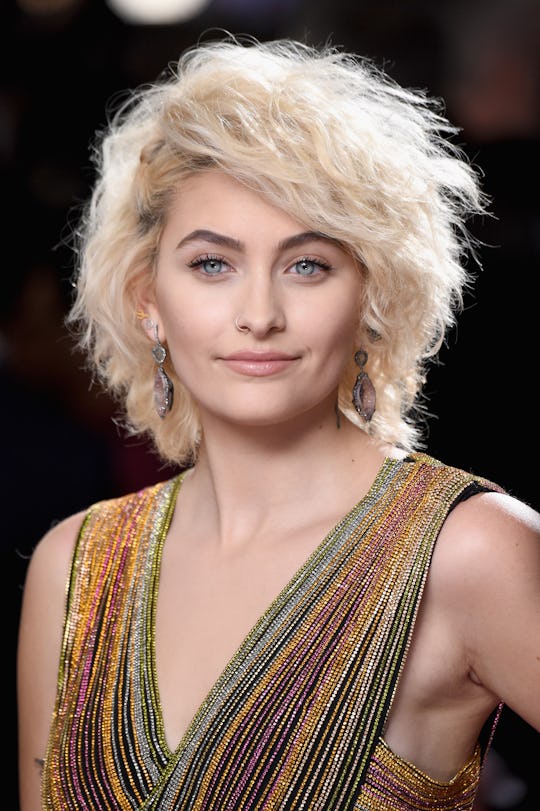 Frazer Harrison/Getty Images Entertainment/Getty Images
Paris Jackson Is Ready To Fight The DAPL
In the weeks and months since President Donald Trump's election, celebrities ranging from actress Meryl Streep to musician Miley Cyrus have used their platforms to protest actions taken by the new administration. This was the case over the weekend at the 2017 Grammys, when Paris Jackson, daughter of legendary musician Michael Jackson, spoke out against the Dakota Access Pipeline. But did Paris Jackson ever go to Standing Rock to protest directly?
It seems that while the 18-year-old hasn't gone out to Standing Rock itself, which is located in the Dakotas, she did recently attend a #NoDAPL protest in Los Angeles, California in late January. She posted photos from this protest on both her Twitter and Instagram accounts, and posted a fantastic Instagram video from the protest, in which she and her fellow marchers are chanting, "Up, up, up the people! Down, down, down the Pipeline." Given Jackson's recent participation in this march, it's little surprise that the issue was on her mind at the Grammys.
It was while introducing performers The Weeknd and Daft Punk that Jackson made her #NoDAPL statement, which was brief and to the point: "We could really use this kind of excitement at a pipeline protest, guys!" she said, adding, "hashtag NoDAPL."
Jackson, who grew up on Neverland ranch with her siblings and father, has recently been in the public's eye more than ever. She appeared on the cover of Rolling Stone in January, accompanied by her first in-depth public interview. She is an aspiring model and actress, and her online presence shows that she's an aspiring activist as well.
In this photo from a recent protest posted at Jackson's Twitter account, she's holding a sign that says "children can't drink oil." She also humorously pointed out that the police officer in the image was the "first cop to actually say yes to a photo with me."
Jackson's recent Twitter activity highlights other references to the Dakota Access Pipeline as well. She re-tweeted a headline about Malia Obama, the older daughter of former President Barack Obama, attending a pipeline protest at the Sundance Film Festival in Park City, Utah.
Jackson also expressed that she was "infuriated" when the Trump administration announced plans to green-light the pipeline by expediting an Army Corps permit review.
Jackson wasn't the only entertainer to make a political statement at the Grammys on Sunday. Kate Perry wore a Planned Parenthood logo on her suit, according to The Washington Times, and the performance of her new single, Chained to the Rhythm, was laced with overt political messages.
When these kinds of inspiring celebrities have something to say, we're more than happy to listen. Keep speaking out, Paris.