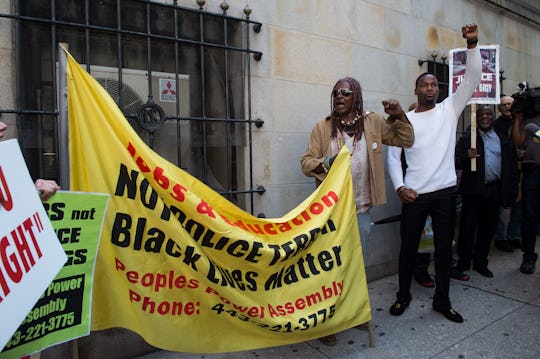 NICHOLAS KAMM/AFP/Getty Images
Did Philando Castile Have Children? He Was An Active Member Of The Community
Just hours after the release of a shocking video that showed the shooting of Alton Sterling at the hands of the police, another similarly devastating video surfaced. Philando Castile was reportedly pulled over on Wednesday night in Falcon Heights, Minnesota, and the traffic stop escalated quickly to a deadly encounter. Castile was shot by police when he allegedly reached for his wallet, and died some hours later in the hospital. His untimely death has shaken his community and the entire country. He was a devoted employee and a good friend, but did Philando Castile have children?
Castile was in the car with his girlfriend, Diamond Reynolds, and Reynolds' young daughter when they were stopped, according to CBS Minnesota. The minutes immediately following Castile's shooting, Reynolds got out her phone and began live-streaming the unfolding events on Facebook, according to NPR. The video is intense and heartbreaking. It opens with a shot of Castile slumped in the passenger seat, his shirt stained with blood. She continues to narrate the events and interactions with police officers, up until she is handcuffed and put in the back of a police car with her daughter.
In the course of the video, Reynolds tells her side of the story. She says that Castile informed the officer that he had a gun and a concealed carry permit. When he reached for his wallet, he was shot, according to Heavy.com. The little girl in the backseat who witnessed the grisly events was not Castile's daughter, but Reynolds'. Though Castile has no children, he was beloved my many of them.
He had worked for the same public school district for more than a decade as a nutrition specialist. According to NPR, one coworker said, "Kids loved him. He was smart, over-qualified." The Saint Paul Public Schools issued a statement about Castile's death, which they called "tragic." The statement said:
He graduated from Central High School in 2001 and had worked for Saint Paul Public Schools (SPPS) since he was 19 years old, beginning in 2002, in the Nutrition Services Department. Mr. Castile was promoted to a supervisory position two years ago and was currently working in one of our schools during the summer term. Colleagues describe him as a team player who maintained great relationships with staff and students alike. He had a cheerful disposition and his colleagues enjoyed working with him. He was quick to greet former coworkers with a smile and hug.
Other coworkers provided a more personal touch to the statement. One added, "I knew him as warm and funny; he called me his 'wing man.'" The statement also revealed Castile's ambition. It went on to say, "He wore a shirt and tie to his supervisor interview and said his goal was to one day 'sit on the other side of this table.' Those who worked with him daily said he will be greatly missed." Superintendent Valeria Silva added, "He's worked in SPPS for many years and he graduated from our district, so he was one of our own."