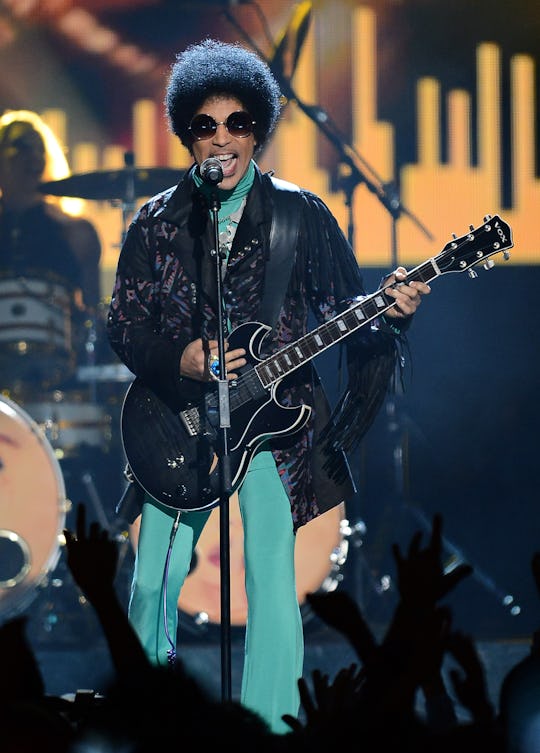 Ethan Miller/Getty Images Entertainment/Getty Images
Did Prince Have Kids? The Story Is Heartbreaking
On Thursday, at just 57 years old, iconic musician Prince was reported dead, according to CNN. The cause of Prince's death is still unknown, and fans are posting tributes across social media. Those who knew and worked with Prince are sharing their memories with him, and some fans are wondering just who he left behind: did Prince ever have kids? He definitely tried to have them, but the story ended tragically.
According to USA Today, Prince was married twice. His first marriage was to Mayte Garcia, a backup singer and belly dancer, according to The Mirror. Though they met when she was 16, they reportedly didn't marry until four years later, in 1996. That year, she gave birth to their first child, Boy Gregory, a week after his birth, according to USA Today. He died of a skull defect called Pfeiffer syndrome, and then, not long after, Garcia had a miscarriage. Garcia told The Mirror that the loss of Boy is what led to their relationship falling apart:
To lose two babies is really scary... it really caught on me emotionally, physically, everything. It took me at least 15 years to get over it and still, to this day, I miss my son. I believe a child dying between a couple either makes you stronger or it doesn't. For me, it was very, very hard to move forward and for us as a couple I think it probably broke us.
A 1997 E! article reported that, even though the Minneapolis medical examiner's office released a statement that Prince and Garcia's son died of natural causes, the singer and Garcia refused to publicly acknowledge his death for some time. The Mirror reported that the couple even went on The Oprah Winfrey Show and pretended as if Boy was still alive. Garcia said the experience was traumatizing, according to Mirror:
We had to show people that we were strong, that we had faith, and that we would try again. But I didn't really want to speak to anybody. I was physically distraught. When you miscarry your body is freaking out, like 'Why can't I feed the baby?' so those were the things I went through. Every day was a struggle even to breathe.
Clearly, the experience was a tragic one for the couple. Prince was also married to Manuela Testolini from 2001 to 2006, but USA Today reported that the couple didn't have any children.
It seems that Prince likely wanted children, but lost them in a heartbreaking way. Still, there is no shortage of people left behind who will honor and carry on his memory.