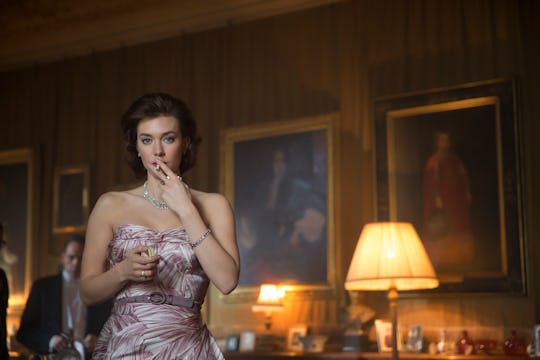 Alex Bailey/Netflix
Did Princess Margaret Ever Marry? 'The Crown' Stopped Short Of Telling Her Whole Story
One of The Crown's most engaging B plots wound up being the "secret" affair of Princess Margaret and Peter Townsend, her father's extra equerry and a handsome war hero 15 years her senior. The first season of the Netflix biopic ended with Margaret furious at her sister for refusing to sign off on the couple's marriage on the grounds that Peter was divorced, and a royal marriage to a divorced person had nearly upended the monarchy when their uncle, Edward VIII, abdicated the throne to do it. But did Princess Margaret ever marry after she and Townsend broke up in 1955? She did move on, but it wasn't a happy ending.
Years after their breakup, in 1959, Margaret received a letter from Townsend stating his intention to marry a 19-year-old Belgian woman. Ouch. The 29-year-old Margaret was determined to move past the relationship after that small humiliation, and prove to the nation that she had as well. She eventually took a liking to photographer Antony Armstrong-Jones, whom she invited into her inner circle and quickly grew closer to. The Queen Mother liked him immediately, although the couple faced stiff opposition from nearly everyone else. He'd be the first commoner married by a royal family member in 400 years, which their supporters appreciated as modern, but most of the royal family and servants considered it disgraceful. There were also questions of whether the couple would be a good fit, temperament-wise, since they both delighted in being the center of attention.
Armstrong-Jones' close friends and family rejected the coupling on the grounds that it was simply too stressful and hectic to be married to a royal. They thought it was too difficult an undertaking to be enjoyable long-term. But eventually, the pair decided they wanted to get married and went to the Queen to ask her permission. Pregnant with Prince Andrew at the time, Queen Elizabeth II asked that Margaret and Armstrong-Jones wait until after she gave birth to announce the engagement publicly, although she did give her blessing to the union. They got married in 1960 in the first ever televised royal wedding.
Armstrong-Jones eventually agreed to receive titles in order to secure their children's place in the royal lineage. In 1961, he was named Earl of Snowdon, with the courtesy title of Viscount Linley of Nymans. His and Princess Margaret's son David Albert Charles was born a month later. Their second child, Sarah Frances Elizabeth, was born in 1964, although in-between the birth of their two children, their marriage began to fray. They enjoyed a brief reconciliation after the birth of Sarah, but 14 years later, in 1978, Princess Margaret and the Earl of Snowdon divorced, causing yet another royal scandal. Never a dull moment when you're a member of the royal family!