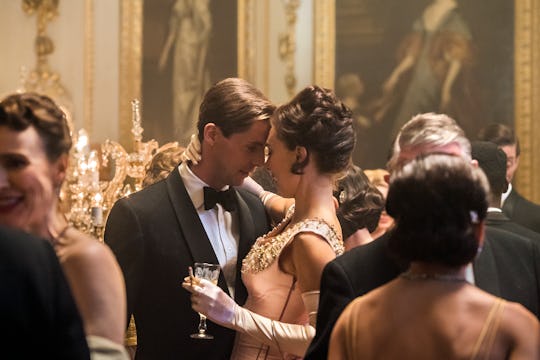 Alex Bailey/Netflix
Princess Margaret Got The Wedding She Always Wanted On 'The Crown'
In Season 2, Netflix's The Crown explored Princess Margaret moving on from her Season 1 relationship troubles with a new man named Tony Armstrong-Jones. They get hitched in Season 2, but did Princess Margaret marry Tony Armstrong-Jones in real life too? The Crown errs on the side of truth when it comes to the content on the show, so Margaret and Tony's relationship is indeed based on reality. They were married in 1960 in a lavish televised wedding, but divorced years later in 1978.
Armstrong-Jones was a photographer and his relationship with Margaret began to develop after he was hired to take her picture, though they had met before the session. According to an excerpt of Anne de Courcy's Snowden: The Biography that was featured in Vanity Fair, Armstrong-Jones sparked Margaret's interest because he treated her like anyone else during the photoshoot. He was not deferential to her in the way people usually were because of her royal title, and that was intriguing for Margaret. They began to spend more time together, and soon fell for one another.
De Courcy described Margaret as a "challenge like no other" for a lothario like Armstrong-Jones. "Each was a person of extraordinary sexual magnetism, with a libido to match," de Courcy wrote. "When they entered each other's force field of attraction, their mutual gravitational pull was irresistible, and soon they were sexually besotted. That their passionate love affair was completely secret added to its intensity."
The royal family gave their blessing to Margaret and Armstrong-Jones' engagement, but the couple had to wait until after the birth of Queen Elizabeth's son to announce it. Some people were doubtful that Margaret and Armstrong-Jones were really suited for each other because of his previously wild lifestyle, but nevertheless they married on May 6, 1960 in the first-ever royal wedding shown on television. Town & Country reported that an estimated 300 million viewers tuned in for the spectacle.
After the wedding, the new couple honeymooned in the Caribbean and subsequently moved to apartments in Kensington Palace. Armstrong-Jones and Margaret became the Earl and Countess of Snowdon, respectively. They had two children: David in 1961, and Sarah in 1964. Though the rest of the family was reportedly fond of Armstrong-Jones, things between him and Margaret began to break down after a little while.
Their marriage fell apart for several reasons, among them being their different responsibilities, his devotion to his work as a photographer, and their similarly strong personalities. They both allegedly sought relationships with other people outside the marriage and eventually separated in 1976, divorcing two years later. The royal family was not known for being easily accepting of divorce; part of the reason Margaret's engagement to Peter Townsend had ended was because he had been previously divorced and married. It was even more shocking for Margaret to choose to do so herself. In fact, her divorce from Armstrong-Jones was the first in the royal family since King Henry VIII in 1540.
However, according to de Courcy's biography of Armstrong-Jones, the pair "maintained a solid friendship, once the bitterness of the divorce was over." He went on to marry again to Lucy Lindsay-Hogg, whom he separated from after it was revealed that he'd had a child with another woman. Armstrong-Jones passed away in January of this year. Margaret did not remarry. She had a series of health issues throughout the latter part of her life due to her smoking habit, and she died back in 2002.
Though Margaret and Armstrong-Jones ultimately proved to be incompatible, seeing their relationship unfold from the very beginning surely makes for a compelling second season of The Crown.
Check out Romper's new video series, Romper's Doula Diaries:
Watch full episodes of Romper's Doula Diaries on Facebook Watch.