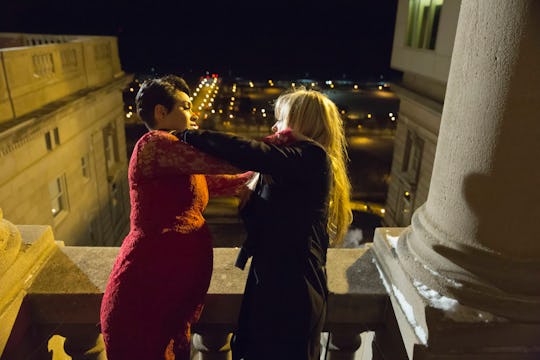 Chuck Hodes/FOX
Did Rhonda Die On 'Empire'? Season 3 Started Off With A Shock
Empire wasted no time bringing the drama on Wednesday's premiere. In a scene so intense it felt like a dream scene, it appeared that Anika and Rhonda's confrontation – that started in the finale of last season – escalated rapidly. Anika pushed Rhonda off a ledge and she seemed to fell to her death. Did Rhonda die on Empire, in the first scene of season three no less?
It seems like this isn't a dream at all; Rhonda's death appears to be very, very real. Before Rhonda fell at Anika's hand, Anika admitted that she was also the one who pushed her down the stairs. Both were pregnant with Lyon children, and Anika wanted to have the only heir to the throne. She could not stop at killing Rhonda's child though; her cruelty mounted to killing Rhonda herself.
After Anika pushed Rhonda, Andre confronted her – which is, of course, the perfect time for Anika's water to break. It's at this point that the incident went from "it's probably a dream, right?" to "it has to be a dream." When Andre carried Anika off, though, doubts crept it. When Rhonda was shown, having slammed into a car, it was definite: this was really happening.
Later in the episode, Rhonda's death was confirmed further: Andre could not work because he was grieving his wife (and lest we forget, he lost his baby not long ago – also because of Rhonda). Before the premiere, Empire show runner Ilene Chaiken hinted that a main character would not survive. He spoke to TV Line and said, "Rhonda and Anika are both such sexy, dark, interesting characters...I can't imagine saying goodbye to either one of them." Well, we see who he chose.
Chaiken wanted the season to be as dramatic as its predecessors – and killing off a character is certainly a way to do that. "We talk about what would be the best and most delicious story to tell in the next season," he said. Chaiken and the other producers certainly achieved this, and quickly. It's evident that this season of Empire will be full of surprises and take no prisoners. If a character was murdered in the very first scene, we can't imagine what's next for the Lyons.