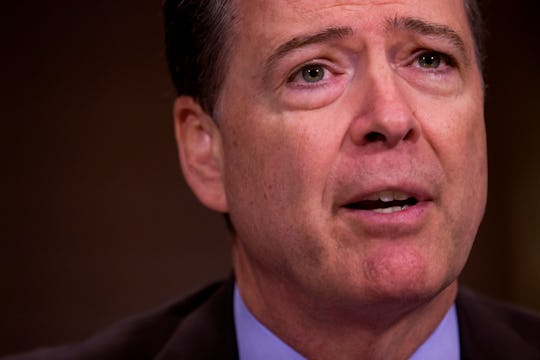 Eric Thayer/Getty Images News/Getty Images
Did Richard Nixon Also Fire His FBI Director?
Amid the shocking news Tuesday that President Donald Trump had fired FBI Director James Comey, many were quick to draw comparisons to former President Richard Nixon, with a rumor spreading on social media that Nixon had been the only other president to order a similar termination. But did Richard Nixon actually fire his FBI director? It turns out that he didn't, a fact that the Richard Nixon Library was quick to point out on Twitter.
Nixon did fire the special prosecutor investigating the Watergate scandal at the time, so, given that Comey was heading an investigation into the Trump campaign's Russia ties at the time that Trump fired him, the comparison isn't completely off-base.
A little history refresher: Nixon fired Archibald Cox, the special investigator looking into the Watergate burglary, in 1973. That shocking move led both Nixon's attorney general and deputy attorney general to resign in protest, and the triple removals became known as the Saturday Night Massacre. After Comey's abrupt termination, people were quick to see similarities, and "Tuesday afternoon massacre" began trending on Twitter, but with some users getting the facts wrong. The Richard Nixon Library quickly jumped in to correct the rumor, tweeting, "FUN FACT: President Nixon never fired the Director of the FBI #FBIDirector #notNixonian." Fun indeed! Everything is very fun right now!
The only other president to fire the director of the FBI was actually President Bill Clinton, although the circumstances were very different. Clinton fired FBI Director William Sessions in 1993, but Sessions had been under investigation for ethical concerns even before Clinton took office. When Sessions refused to step down, despite the Justice Department finding that he'd engaged in tax evasion and misuse of government funds, Clinton dismissed him.
According to official White House documents, Trump fired Comey on the recommendation of Attorney General Jeff Sessions and Deputy Attorney General Rod Rosenstein, who took issue with the way that Comey handled the investigation into Hillary Clinton's private email server. "It is essential that we find new leadership for the FBI that restores public trust and confidence in its vital law enforcement mission," Trump wrote in the letter to Comey that informed him of his termination. (Or rather, the letter that was supposed to inform him. Comey actually found out he'd been fired by seeing news reports on television.) Romper has reached out to both the White House and FBI for comment on the dismissal and is awaiting a response.
Many have pointed out, though, the strange timing of Comey's dismissal, given that Comey's mishandling of the email probe was not new information. The dismissal came in the midst of hearings into ties between members of the Trump campaign and Russia, an investigation which Comey was spearheading. Now, Trump will be able to appoint a new FBI director, raising concerns from Democrats and Republicans alike about what will happen to the investigation.
Trump's decision may not technically be Nixonian. But, to many, it's certainly not normal.