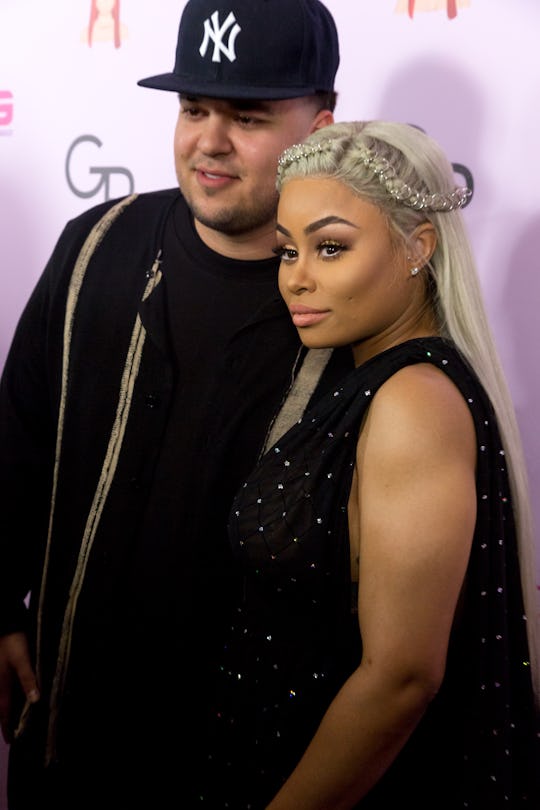 Greg Doherty/Getty Images Entertainment/Getty Images
Did Rob Kardashian Know Blac Chyna Was Pregnant On 'Keeping Up With The Kardashians?'
After Sunday night's episode, fans of Keeping Up With The Kardashians seemed rightfully started to question whether to Rob Kardashian knew Blac Chyna was pregnant during filming... or whether a chance name-drop during a conversation with his parents was just coincidental. Rob, of course, is just full of surprises these days. Kardashian and Blac Chyna announced in January that they were dating and then just afterwards, that they were engaged. Then earlier this month, they announced that they were having a baby. When the news dropped that they were expecting, it seemed a little sudden.
Then, in this week's episode, during a scene with his mother Kris Jenner, Rob joked that his fake "son" would be named Robert the Third. Did he know already? Or was it just a random happenstance?
It certainly seemed like he was joking, especially since during the call he teased Kourtney about Mason losing teeth and how "for his son, it was much earlier," but now that Chyna's pregnancy is confirmed it totally makes sense that the family knew while they were filming the latest season. In last night's episode, Rob was buying a house, which he moved into sometime in February, according to gossip blogger Perez Hilton. That the new couple would announce the pregnancy months after they already knew seems plausible, given the standard time most couples wait before breaking the good news to family and friends.
Even though giggly inside joke conversations are the Kardashian clan's strong suit, it really seems like this naming banter and joking about a baby boy on last night was referencing a real pregnancy that everyone was just keeping under wraps. Last week, shortly after announcing the pregnancy, E! reported that the the couple wanted to name their kid, no matter the gender, something that referenced Rob's father's name to keep it all in the family. They told reporters that although they have a few things in mind, Robbie, even for a girl, would be a top pick.
Although the family has said that they're excited for the newest member of the Kardashian brood to arrive, Sunday's episode also focused on some Rob and Khloé drama (as usual).
"I'm so confused about is why Rob has such issues with me all of a sudden," Khloé said while discussing the fact that she and Rob weren't on speaking terms. Maybe — if we can indulge in some speculation — it wasn't that Rob was mad at her for simply kicking him and Chyna out of her house but for kicking them out and not being too concerned about her pregnancy. One can only wonder.
That would explain the radio silence a little more, especially since Khloé and Rob are always fighting and but generally make up pretty easily. Then again, it's always hard to keep up with the Kardashians (I'm sorry, I couldn't resist) and their respective drama.
Whatever the case, fans can be certain of one thing: that the family will be welcoming another Rob (or Robbie) Kardashian very soon.