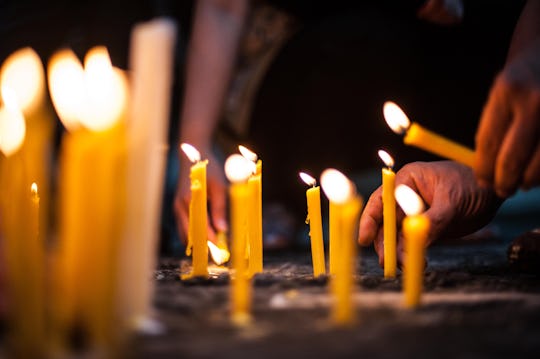 Dondi Tawatao/Getty Images News/Getty Images
Robert Godwin Sr. Left Behind A Big, Loving Family
On a sunny Easter Sunday afternoon, Robert Godwin Sr. was walking the streets of Cleveland, Ohio, collecting aluminum cans as was his custom. Randomly, he was approached by a man with a phone and a gun. A conversation lasting less than a minute took place, and within seconds, Godwin was killed. It's a story that's still so hard to grasp, as senseless tragedies often are. And while Godwin's children have come forward to speak about their father, many are left wondering, just how big of a legacy did Godwin leave behind? And did Robert Godwin Sr. have grandkids? The 74-year-old had 10 children and 14 grandchildren, according to CNN.
Of course, identifying all of Godwin's family is only important if they themselves choose to speak out. Privacy at a time like this is an important gift to give the family members and loved ones impacted by tragedy. However, some of Godwin's family have made themselves known via social media outlets and interviews. But really, the fact that all of his children and grandchildren who have identified themselves have had nothing but wonderful things to say of Godwin is evidence enough that this man was loved deeply, and has left behind a large family legacy to carry on his name and what he stood for.
Godwin was originally from Alabama and had nine siblings, two of which Cleveland 19 spoke with about the death of their brother. Lindsey Jones, Godwin's younger brother, who lives in Selma, Alabama, spoke about his experience watching the alleged Facebook video of Godwin's murder:
It hurt me so bad to see him shoot my brother like that. That's what hurt me. It hurt me so much to know that man walked around and killed my brother for nothing. I pray for his family because his family had nothing to do with what he did, but when he killed my brother, I wanted to kill him. When they said he was dead, it was fine with me
Currently, details about Godwin's grandchildren remain private. However, memorial services are expected to be held Saturday, April 22 for Godwin, and it's likely that an official obituary and more details will be released at that time as well.
What is known, though, is that Godwin was a beloved son, brother, father, grandfather, and citizen of the world. His life was unfairly taken, and the least the public can do for him is to show respect for the privacy his family needs.