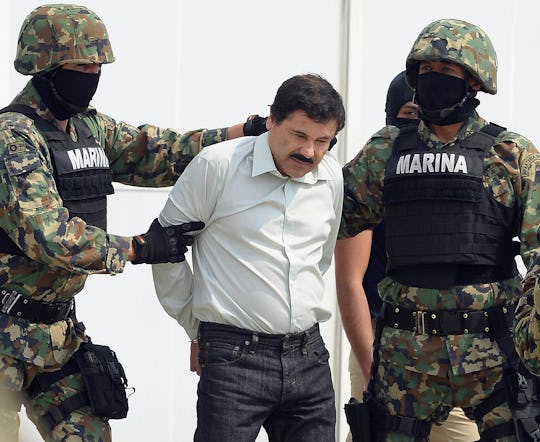 Alfredo Estrella/AFP/Getty Images
Did Sean Penn's El Chapo Interview Really Lead To The Mexican Drug Lord's Arrest? The Answer Isn't That Clear
Joaquin Guzman's escape from prison may have made headlines but it's his recent arrest that has everyone talking. Guzman, the Mexican drug lord more famously known as "El Chapo", first captured everyone's attention by escaping through a tunnel in the shower floor of the Altiplano Federal Prison last July. On Friday, Mexican officials announced that they had finally captured the fugitive following a shootout in Los Mochis, a northern coastal city in Sinaloa state. More surprising, however, was how law enforcement was able to finally track him down: According to authorities, it was actor Sean Penn's Rolling Stone interview with El Chapo that may have led to the kingpin's arrest.
The interview, which was published on Saturday, highlighted Penn's conversations with the notorious drug lord during a visit to an undisclosed mountaintop location last year (while Guzman was still on the run), as well as brief phone call interviews Penn conducted with Guzman over the phone in the months following his initial sit-down. In the interview, Guzman regaled Penn with stories from his childhood, explaining that he was not a violent person and further insisting that his organization was not a cartel. "[...] Do I start trouble? Never," Guzman claimed. "... People who dedicate their lives to this activity do not depend on me."
In the months following the interview, which Penn said was facilitated by Mexican actress and El Chapo sympathizer Kate del Castillo, who once played a cartel leader herself in the soap opera La Reina del Sur, Guzman's situation began to sour. On Jan. 8, his luck reached its tipping point when Mexican Special Forces raided the home in which he had been hiding out, taking him into custody for a third time.
So were the rumors true? Did Penn's Rolling Stone interview contribute in some way to Guzman's arrest, and if so, how much? According to The New York Times, that answer isn't so cut and dry.
As The Times pointed out in a column on Saturday, though Mexican authorities claimed to have dug up Guzman's location via communications between the drug lord and someone who had been discussing the possibility of producing a movie about his life, it was never clear whether Penn was that person, or whether the cell phone communications to which they had been referring were the same ones mentioned in Penn's story.
Explained reporter Ravi Somaiya,
[Penn] described labeling cheap "burner" phones, "one per contact, one per day, destroy, burn, buy, balancing levels of encryption, mirroring through Blackphones, anonymous email addresses, unsent messages accessed in draft form." Nevertheless, he wrote, "There is no question in my mind but that DEA and the Mexican government are tracking our movements," referring to the United States Drug Enforcement Administration.
So far, authorities aren't speaking up. No one's really sure whether it was Penn's interview that allowed authorities to locate his hideout. And if people were hoping for more information out of Penn's camp, it probably won't be happening anytime soon; As an aide to President Obama told CNN's Jake Tapper this week, the interview itself poses "a lot of very interesting questions, both for [Penn] and for others involved" and could lead to formal federal questioning — meaning that Penn and his ilk are likely going to be avoiding the spotlight as much as possible until things settle down.
What we can glean from Penn's own words, is this: Following Guzman's second capture in February 2014 (prior to his lockup in Altiplano Federal Prison), Guzman had been attracting plenty of media attention and requests from lawyers hoping to get the kingpin both on the record and on the big screen. "He was interested in seeing the story of his life told on film, but would entrust its telling only to [a select few]," Penn wrote in his Rolling Stone article. If Penn is to be believed, the tip-off could have truly come from anyone. (Although, given what we know so far, that's probably unlikely.)
The controversy over whether Sean Penn's missives to and from Guzman and his contacts truly led to the drug lord's capture is, so far, still in its infancy — there's plenty more that hasn't been revealed that might just prove valuable in the coming days. Over the next few months, with increased scrutiny from both the Mexican and U.S. governments, you can bet all of that will change.