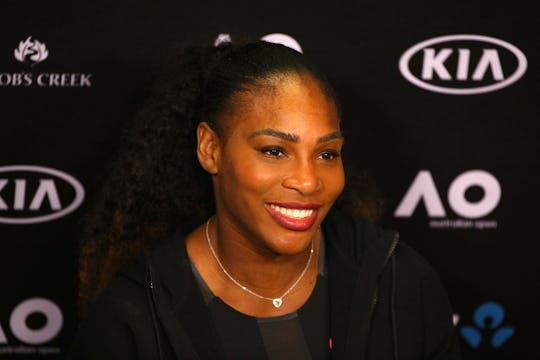 Michael Dodge/Getty Images Sport/Getty Images
Serena Williams Just Welcomed Her First Child!
The list of celebrity babies just got a little bit longer. On Friday afternoon, star athlete Serena Williams gave birth to her first child with fiancé Alexis Ohanian, the co-founder of Reddit, and her fans pretty much lost their minds. The first thing everyone wants to know now is a) that the baby is healthy, of course, and b) whether Serena Williams had a boy or a girl.
Previously, Williams and Ohanian said they were waiting to find out the sex of their baby, according to CNBC. Though they waited, Williams and Ohanian have said in the past that they thought Williams would have a girl, according to ABC News. And, according to sources per Us Weekly, the couple did in fact welcome a baby girl on Friday in a Palm Beach, Florida hospital.
Ohanian reportedly told talk show host Jimmy Kimmel that, since his fiancée won the Australian Open while pregnant, she believed the baby would be a girl. He told Kimmel that Williams said to him, according to ABC News:
Everything that little baby went through and handled like a champ, only a woman could be strong enough to take on.
And Ohanian went on to tell Kimmel:
I have to admit, I was very lucky to be raised by a very strong, amazing mother and I mean she's got a good point!
On Friday, fans of the tennis star could not contain their excitement when reports surfaced that Williams was in labor.
They took to Twitter to share their feelings, and didn't hold back.
Leading up to the birth, Williams talked about the baby and her hopes and dreams for it. In a recent interview on an episode of "Kneading Dough," on Lebron James' website Uninterrupted, Williams revealed the three things she wanted for her baby, and one of them was actually pretty dependent on the baby's sex.
In the interview, Williams said that if the baby turned out to be a girl — and in particular, if that girl became a successful athlete like herself — she wanted equal rights for her daughter, and specifically, equal prize money in line with what male athletes receive. She said, according to CNBC:
If my daughter were to play a sport, and she was able to have equal prize money and equal pay or equal rights, I feel like that would be a success too.
And although the gender pay gap in sports is narrowing, there's still work to do, according to the BBC. Williams hoped that, should her baby be a girl, her daughter would continue that fight. She said, according to Yahoo! Finance:
If [necessary], I would really want her to speak up for it. Well, any daughter of mine will have a voice.
Regardless of the sex of the baby, Williams also previously said that she hoped it would live "according to the values her parents instilled in her as a child," according to Yahoo! Finance. She said:
Honestly, if my kid can grow up exactly how I did, I couldn't be happier. I would love to give to my kid the values that my parents gave me. I think that's most important and I think everything comes after that.
But mostly, Williams said, she wanted her child to find happiness, CNBC reported. And isn't that what any parent wants for their baby, regardless of whether it's a boy or a girl?