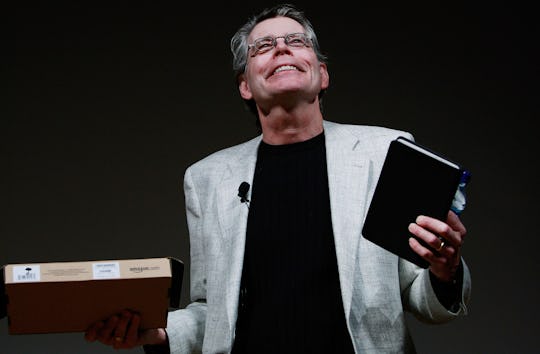 Mario Tama/Getty Images News/Getty Images
Hulu's 'Castle Rock' Pays Homage To Stephen King's Work
Hulu's newest original series, Castle Rock features a universe based entirely on the works of horror author Stephen King. From the fictional town it takes place in — Castle Rock — to the character's backstories, the series weaves in elements from a number of famous King novels. He is credited as an executive producer of the series, but did Stephen King write Castle Rock? Because it feels like his fingerprints are all over it.
Well, it turns out that King did not write Castle Rock, but the series certainly pays homage to his work. The show's writers, Sam Shaw and Dustin Thomason are the creative forces behind the project, and have introduced fresh storylines within a fictional world inspired by King. In a synopsis, Hulu describes the show thus:
A psychological-horror series set in the Stephen King multiverse, Castle Rock combines the mythological scale and intimate character storytelling of King's best-loved works — a first-of-its-kind reimagining that explores the themes and worlds uniting the entire King canon, while brushing up against some of his most iconic and beloved stories.
The town of Castle Rock has been the setting for a number of King's works, including Cujo, IT, The Dark Half, and "Rita Hayworth and The Shawshank Redemption." In a 2018 ATX Television Festival panel for the series, the duo said that as fans of King's novels, they were intrigued by the idea of creating a show about King's fictional town that had seen its fair share of nightmares. "What is a town like Castle Rock like now?" said Thomason, "I think we were excited about coming back to this town that haunted our childhood dreams and what it would be like in the modern era."
Luckily, the writers and producers have King's blessing on the project, and they revealed that was largely due to executive producer J.J. Abrams relationship with King. "We were really gratified when he said yes, in part because we weren't the first people to knock on his door asking for a cup of sugar, and to please be able to set a TV show in Castle Rock," said Shaw during the panel. "It's probably just the strength of his relationship with J.J. that made this possible." And it was after King watched the show that the writers really felt his approval. "After he watched the first episode, we were really excited," said Thomason, "because he said that for the first time in a very long time, he called out to his TV to tell someone to not go where they were about to go."
I can't imagine how awesome it must have been for King to see his life's work turned into an entirely new universe of its own. Castle Rock is sprinkled with elements from his most famous works, like Shawshank Prison which plays a big part of the series' storyline, and the revival of Castle Rock's retired sheriff, Alan Pangborn (Scott Glenn), who has been a recurring character in King's novels and films. For those familiar with his stories, there are plenty of Easter eggs to pick apart, including a the subtle recall of "the boy's body out by the train tracks" as a callback to King's novella, The Body, and a shot of a newspaper clipping about a rabid dog attack referencing Cujo.
But if you haven't been an avid fan of King's novels and movies, the show's creators still promise a thrill. "The impulse was to try to write a show that can be fun and pleasurable for somebody who has no experience reading Stephen King, but also to satiate people who want to nerd out," Shaw revealed at the panel. "We've seen things that are so packed full with Easter eggs that it becomes kind of dizzying," added Thomason, "It was important to us [that those references] all had meaning."
So, despite not being written by King himself, Castle Rock revives the elements of his novels to create a new Stephen King inspired world. The series will premiere with the first three episodes on Wednesday, July 25 on Hulu.