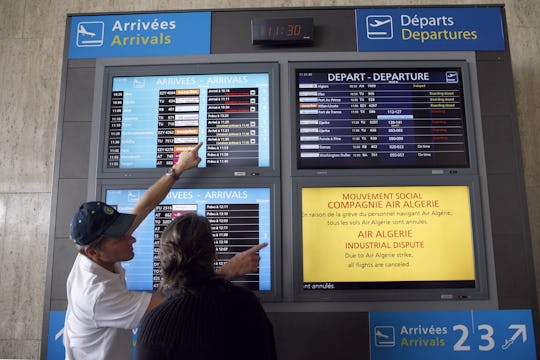 AFP/AFP/Getty Images
Did Terrorism Cause Egypt Air MS804 To Crash? Officials Are Still Investigating
Since EgyptAir Flight 804 disappeared from radar yesterday afternoon, planes, ships, and satellites have been employed in attempts to locate any debris and piece together the possible causes of the tragedy. Presumably, the plan crashed on its route from Paris, France, to Cairo, Egypt. The flight had 66 people on board, including three small children. Though the investigation is still ongoing, given what information has been gathered and the turmoil in the region, many are wondering: did terrorism cause EgyptAir MS804 to crash?
The possibility has in no way been ruled out. When briefing the media about the situation, Egyptian Civil Aviation Minister Sharif Fathi said that technical failure and terror are both still on the table as possible causes. But, he said, "if you analyze this situation properly, the possibility of having a different action aboard, of having a terror attack, is higher than having a technical problem."
Fathi is not alone in that opinion. Fox News reported that Russia's security chief, Alexander Bortnikov, said he believes that "in all likelihood" the plane was brought down by a terror attack. He also called for increased intergovernmental collaboration to track down those behind the "monstrous attack."
On top of the speculation of high-level officials, there is substantial and mounting evidence that points to more than a technical failure. According to the BBC, a British pilot named Alan Carter was flying a B747 near MS804 at nearly the same time that MS804 reportedly went down. He said the conditions were "perfect" and he hadn't had any issues with weather or communication with air traffic control. He said, "All air traffic communications were operating normal. I spoke to Athens radar and remarked how quiet it was, and they told me there were only five planes in the area."
The United States has joined the search effort by dispatching a long-range aircraft to the area from its base in Sigonella, Italy. The New York Times reported that the U.S. Navy announced the mission on Twitter and via a spokesman for the Pentagon's European Command, Lt. Col. David S. Westover Jr. It seems the U.S. military is not at all ruling out the possibility of a terror attack. In fact, President Obama was briefed on the situation by his counterterrorism and homeland security advisors.
Rukmini Callimachi, a New York Times field journalist who covers the Islamic state reported over Twitter that ISIS had not claimed any responsibility for the plane's sudden disappearance. According to the Guardian, after the disappearance of Metrojet Flight 9268 in October, ISIS claimed responsibility that afternoon.
The Associated Press reported that, so far, an Egyptian search plane has located two orange objects 230 miles southeast of Crete that may be from the missing flight. Water and aircraft will continue to canvas the area in search of survivors.