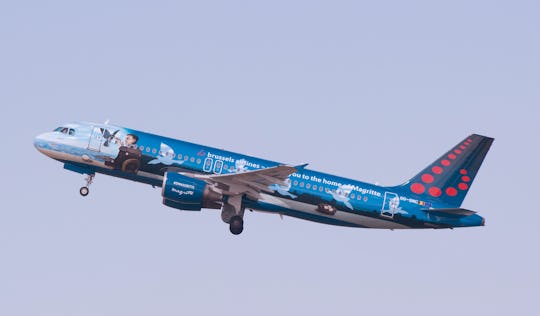 BENOIT DOPPAGNE/AFP/Getty Images
Did The Brussels Airport Re-Open? The First Passenger Flight Since The Attacks Just Took Off
Twelve days after bombs ripped through Brussels' biggest airport, leaving 16 people dead and many more wounded, Brussels Airport reopened with three symbolic flights. The March 22 terror attack, which also included a coordinated bombing in a metro station, and for which Islamic State militants claimed responsibility, devastated Belgium and the world. But now, with these first flights, the airport aims to show that they're getting back on their feet.
Still, although service is starting to resume, returning to normal will be a long, slow process. The airport, which sustained a great amount of physical damage during the attacks, is not yet ready to handle its pre-attack level of flights, which numbered around 600 per day. And those travelers who do get on a flight must prepare themselves for a very different boarding process than they may have experienced in the past. Officials warned passengers taking off from the airport to arrive three hours early, because they'd have to pass through additional security measures in a makeshift departures area. None of the traditional trains or buses to the airport were running, so passengers taking one of the three first flights had to arrive by car. Security forces stopped these arriving cars at various checkpoints on the road, and special cameras checked license plate numbers.
The first flight to take off left for the Portuguese city of Faro, with only around 80 passengers on board. The plane was decorated in a surrealist style, in homage to Belgian painter Rene Magritte, and was accompanied on its taxi to the runway by an honor guard of airport staff. The other two flights were headed to Athens and Turin, Italy. In the coming days, the airport will begin handling more flights, around five to six an hour, including a flight to New York, although some airlines like Delta are holding off on resuming their service to the airport.
It will likely take until the summer before the airport, which was previously one of the busiest in Europe, can reopen more fully. The closure is costing the airport an estimated $5.7 million a day, according to Brussels Airlines, its largest carrier. Still, as airport chief executive Arnaud Feist said, according to the BBC, "These flights are the first hopeful sign from an airport that is standing up straight after a cowardly attack."
The amount of work involved in getting these flights off the ground so quickly after such a tragic attack is laudable. Here's hoping that this will help the city begin to heal.