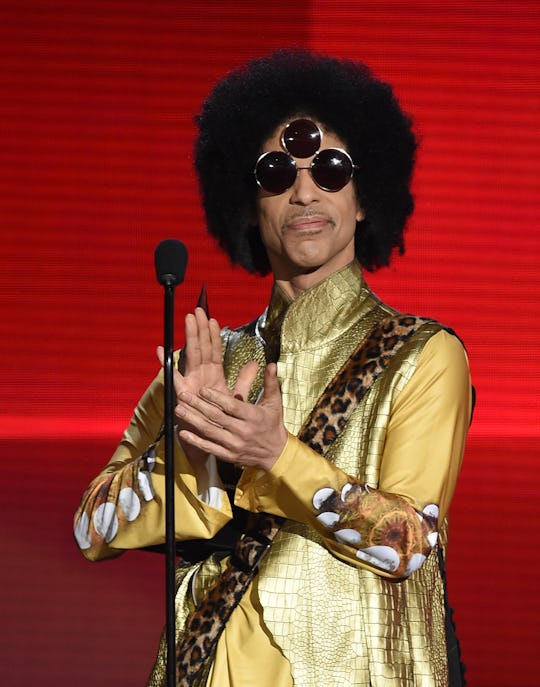 Kevin Winter/Getty Images Entertainment/Getty Images
Did The Elevator Have Anything To Do With Prince's Death? Authorities Release New Info
According to the Associated Press, law enforcement officials called to Prince's home in Minnesota found him unresponsive in an elevator. They attempted CPR, but it was unsuccessful. The musician was pronounced dead Thursday morning. Though he had been suffering from health issues, fans are wondering did the elevator have anything to do with Prince's death?
Update, 8:15 p.m. ET: TMZ claimed in a report on Thursday evening that Prince died of a potential drug overdose, after the singer refused treatment for an opiate overdose earlier in the week. The outlet claimed that "Prince was rushed to a hospital and doctors gave him a 'save shot' ... typically administered to counteract the effects of an opiate," according to multiple sources. Prince's publicist has not yet confirmed the claims.
Officials from the sheriff's office initially stated that deputies found Prince unconscious and unresponsive when they were called to his suburban compound in Chanhassen, Minnesota. According to ABC News, Carver County Sheriff Jim Olson said first responders were unable to revive the 57-year-old pop star. Olson said that Prince was pronounced dead at 10:07 a.m. on Thursday, just half an hour after law enforcement officials arrived on the scene.
The police report from the Carver County Sheriff's office said, "On April 21, 2016 at about 9:43 am, sheriff's deputies responded to a medical call at Paisley Park Studios in Chanhassen. When deputies and medical personnel arrived, they found an unresponsive male adult in the elevator. First responders attempted to provide lifesaving CPR, but were unable to revive the victim. He was pronounced deceased at 10:07 a.m. He has been identified as Prince Rogers Nelson (57) of Chanhassen."
The Sheriff's office and the medical examiner's office is "continuing to investigate the circumstances surrounding his death. "
According to The Guardian, Prince had a case of the flu the week prior to his death. His private jet was even forced into an emergency landing the night of April 15 so that Prince could receive medical attention. The next day, he sent a message to fans saying he was feeling better and was recovering, but those closest to him tell a different story. According to Hollywood Life, his friends advised him to rest. The insider said, "He hasn't been feeling well all week. He's tenacious and wanted to go out, while his people wanted him to stay home and rest." TMZ reported that he was photographed at his neighborhood Walgreens on the evening of April 20, the night before his death. Those who saw him there remarked on how "frail and nervous" he appeared.
Reactions from fans range from desultory to indignant to shocked to inspired. Hundreds have congregated around his compound, called Paisley Park, to honor him and mourn his death together.
According to ABC News, President Barack Obama is mourning the loss of the shape-shifting pop icon as well. In a statement, he said Prince was "one of the most gifted and prolific musicians of our time."