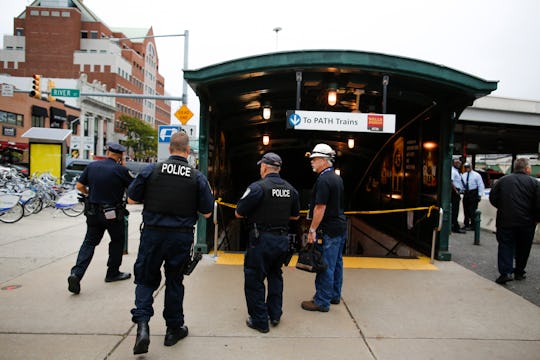 Eduardo Munoz Alvarez/Getty Images News/Getty Images
Did The New Jersey Transit Train That Crashed In Hoboken Derail? It's Being Investigated
Shockwaves were sent through New Jersey and the tri-state area when a New Jersey Transit train crashed into the Hoboken station on Thursday morning. The crash, which is in the early stages of investigation, has left people with many questions, like what the train going to fast and did the New Jersey Transit train that crashed in Hoboken derail?
Despite the numerous tweets and Instagrams from the scene, it is currently unclear what caused the crash that has rattled a city. (Romper attempted to reach out to the NJ Transit at the time of publication.) The New Jersey Transit team released a statement to the press, shared by ABC News on Twitter, which revealed that the crash occurred at approximately 8:45 a.m. The statement further revealed that the train "struck the Hoboken Terminal building," and that initial reports indicate multiple critical injuries.
Following the incident, the New Jersey Transit tweeted that rail service in and out of Hoboken was suspended for the time being, and later reported that all PATH services would be suspended until further notice. In an effort to help commuters return home or get to work, New Jersey Transit busses, private carriers, and the New York Waterway ferry would honor New Jersey Transit rail tickets and passes for the day.
According to The New York Times' initial reports, at least one person was reported dead from the Hoboken crash and hundreds more were injured. Though it is unclear what caused the crash — be it speed, signal malfunctions, or a derailment — photos form the scene show the severity of the incident. Many have reported severe structural damage, which includes collapsed ceilings and frayed wires.
Those who were on the train and in the station at the time are just as confused by the accident as outsiders. In an interview with Reuters, 62-year-old passenger Linda Albelli said she knew something was wrong shortly before the Hoboken crash.
"I thought to myself, 'Oh my god, he's not slowing up, and this is where we're usually stop,'" Albelli told the outlet. "'We're going too fast,' and with that there was this tremendous crash." Albelli also noted that, from what she could see, it looked like many people were in need of medical attention.
Reuters additionally reported that the train was not full, as many passengers had exited at the prior station. ABC News added that most of the people injured were sitting in the first two cars, and those in the back of the train were able to exit without injury. Matthew Lehner, a spokesman for the Federal Railroad Administration, who said investigators are en route to the scene to further examine what could have caused the accident.