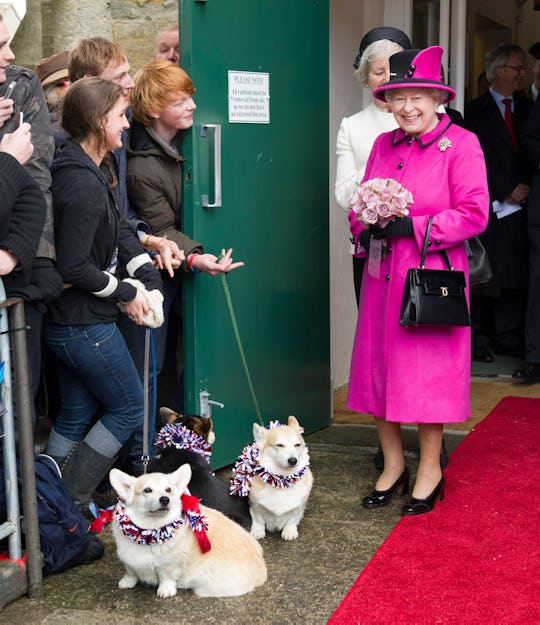 WPA Pool/Getty Images Entertainment/Getty Images
Did The Queen's Real Corgis Star In 'The BFG'? Her Pets Have Acted In The Past
Queen Elizabeth II is notorious for her love of corgis — those short-limbed, stocky dogs who have a well-known nose for trouble — so it was no surprise that "the Queen" in The BFG had a troop of them at her command. However, fans of both the movie and the royal matriarch herself might be asking themselves one very important question: Were the Queen's actual corgis in The BFG? Because, to be honest, that would be absolutely endearing — and viewers might be even more tempted to see the new remake of the Roald Dahl classic.
Unfortunately, the information isn't readily available online, which I'm taking as a sign that Queen Elizabeth II did not volunteer her corgis for the Disney movie. If the Queen's actual corgis were in the movie, there'd definitely be some press around it, since royalty fans would have been all over that. The public's royalty obsession doesn't extend only to weddings and cute toddler pictures these days: even Prince William's pet dog Lupo is famous, despite his non-corgi status.
Another thing to consider is that the queen portrayed in The BFG is never actually referred to as Queen Elizabeth — she's just a pretty good stand-in for her, considering that the movie takes place in the '80s, her friends are "Ronnie and Nancy" (a.k.a. Ronald and Nancy Reagan), and she has a bunch of corgis. Since Queen Elizabeth II doesn't actually pop in, chances are the BFG corgis were simply well-trained acting dogs. (Both Production Beast and IMDb list Rowan Harland as an animal trainer on the film.)
However, don't despair. If you want to see both the Queen and her corgis make their acting debut, you're in luck, since it's already happened. For the opening of the 2012 London Olympics, Queen Elizabeth II joined actor Daniel Craig for a short James Bond skit, and they were accompanied by her famously loyal corgis. Argue all you want about who the best James Bond was, but that's a pretty awesome Olympic opening if you ask me.
The Queen's corgis may not actually be in The BFG, but hey, the important thing is that the little beasts are charmingly cute as they race around, propelling themselves forward on lime-green farts. Whether the corgis in The BFG were royal pets or not, they were undoubtedly awesome, helping cement actress Penelope Wilton as the Queen herself in the film and making the world fall further in love with the stocky little creatures.