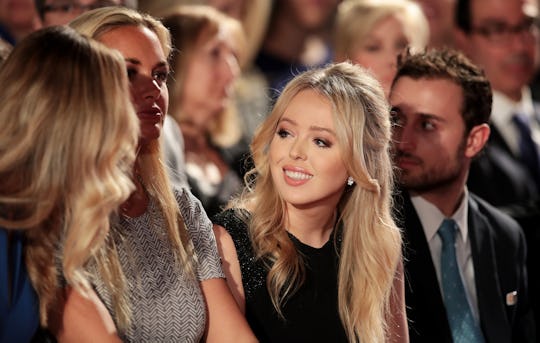 Scott Olson/Getty Images News/Getty Images
Did Tiffany Trump Dodge Donald Trump's Kiss? Video Of The Incident Is So Awkward
There were a lot of uncomfortable moments at the second presidential debate. Four women from former President Bill Clinton and Democratic presidential nominee Hillary Clinton's past sat in the audience. Moderator Anderson Cooper asked Republican presidential nominee Donald Trump if he understood he'd "bragged" about sexually assaulting women. But at the end of the night, one moment in particular stood out to watchful eyes online: an interaction between father and daughter that, at first glance, is pretty painful to watch. Did Tiffany Trump dodge Donald Trump's kiss? The video is definitely awkward.
The debate was over, and the candidates' families made their way to the stage. Trump's wife, Melania, stood next to Trump's daughter, Ivanka Trump, and sons, Eric Trump and Donald Trump Jr. All four looked on as Tiffany approached her dad. Trump points in her direction and appears to move in for a kiss as she steps closer, but her head quickly turns away. When she looks back at Trump, she rubs his arm. What could've been a fleeting moment in Trump's personal history ended up being preserved for all time on the internet, with video clips and GIFs perpetually repeating the cringeworthy interaction:
Despite how it looks, there may be redemption for Trump: according to The Huffington Post, Tiffany's quick head turn is actually a response to her dad moving in to shake someone else's hand. He may not have been moving in for a kiss at all, instead pointing at someone offscreen and shaking their hand before moving back to greet Tiffany. Since the Trump family members seem to be all smiles after the interaction, it does suggest that Tiffany didn't purposefully dodge a sign of affection from her father. But who knows.
It's a small win for Trump, who had a difficult night. The second presidential debate's town hall format challenged the candidates to interact candidly with undecided voters while fielding targeted follow-up questions from moderators Anderson Cooper and Martha Raddatz. After a controversial video of Trump talking with former Access Hollywood host Billy Bush debuted Friday, a number of prominent Republicans renounced support for Trump, NBC News reported. Though Trump released both a written statement and a video apologizing for what he called "locker room talk" about women, he spent a significant portion of the debate attempting to defend his words.
Trump may have gone into the debate with fractured party support, but he certainly had his family at his side. That included Tiffany, who in recent weeks hasn't been quiet about supporting her dad's run for president. In early October, she even retweeted a fan who shared a clip of Tiffany running to her father for a quick kiss on the cheek before he left an event:
That was before the video of Bush and Trump debuted, but it is evidence that Tiffany has stood by her dad through plenty of controversies. The post-debate clip may be catching attention online, but it looks as though the seemingly awkward interaction may not have been a dodged kiss after all.