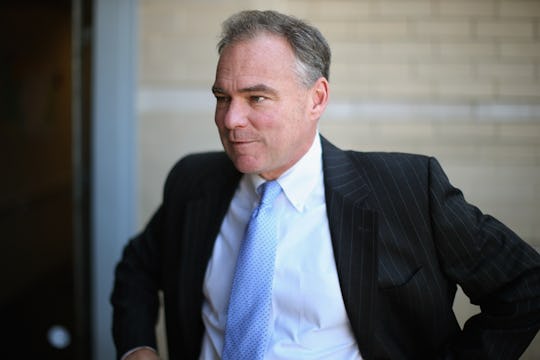 Chip Somodevilla/Getty Images News/Getty Images
Did Tim Kaine Accept Gifts As Governor Of Virginia? It's Not Really A Scandal
On Friday night, presumptive Democratic presidential nominee Hillary Clinton officially announced Virginia Sen. Tim Kaine as her running mate. Almost immediately, as can be expected, Republican nominee Donald Trump began dredging up what he believes to be some of Kaine's past behavior in the political real, specifically that Tim Kaine accepted gifts as governor of Virginia, and as lieutenant governor of Virginia. Which is totally true. Politico reported that Kaine accepted up to $160,000 in gifts from 2001 to 2009.
Some of those gifts include an"$18,000 Caribbean vacation, $5,500 in clothes and a trip to watch George Mason University play in the NCAA basketball Final Four," in addition to paid travel to and from conferences and rallies. All of which he disclosed on filings made available by the state's Public Access Project.
The donors include, according to Politico, Kaine supporters, Teva Pharmaceuticals that bought property in Virginia later, and Dominion, the state's electric company. Even the Obama campaign paid for Kaine's lodging and travel during the 2008 election as he stumped for the then presidential candidate. Here's the thing though: taking those gifts was completely legal in Virginia at the time and the governor disclosed all of them. It's not quite the scandal that it could be.
Then again, many in the political sphere believe that Virginia's ethics laws for politicians are "too permissive." Even Kaine wrote an op-ed in 2013 for The Washington Post that called for reforming Virginia's laws about what politicians should accept as gifts and how they disclose them.
And if the Trump campaign wants to paint Hillary Clinton as "crooked" and tied to money in politics, then Kaine's gift acceptance, even if it was legal, doesn't really help that image. The optics are not good if one looks at from a certain perspective.
One of the gift givers told Politico that he didn't even see the stay he offered Kaine's family as a gift. James B. Murray, a supporter, had Kaine as a guest in his West Indies vacation home. He said, "There was no cash, I just let him use a house. There was no quid pro quo. I don't have any business with him."
New York Magazine called Kaine "diligent and detail-oriented," after going through his emails, much like the Clinton campaign must have done to vet him. Which explains that fact that he disclosed all of his gifts and has even worked to change the system — which probably feels a little gross as a politician — later on his career. The gift accepting isn't quite "scandalous," but during the general election and at the debates, it's likely that voters will hear Trump talk about it as much as possible (without adding that no laws were broken).
As soon as someone says "accepted gifts," it does sound suspicious. Kaine's weren't, technically, and especially because he did exactly what he was supposed to do: report them. But it's one of the darker sides of America's party system that politicians can and do accept money and perks all of the time for their work.
The Clinton campaign would be smart to also talk about the gift-accepting and the tax laws, to counter the criticisms. Tim Kaine didn't break any laws, but Trump will most certainly make it sound like he did.