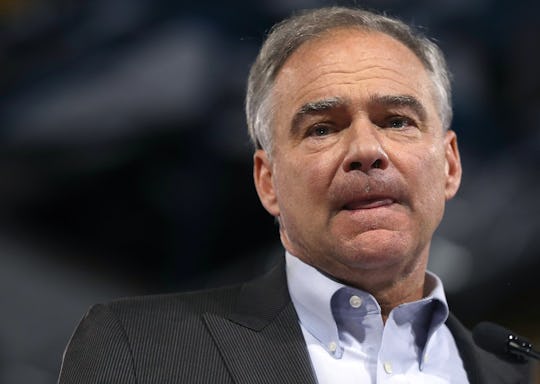 Justin Sullivan/Getty Images News/Getty Images
Did Tim Kaine Use Public Funds Without Permission? He Wanted To Help The Million Mom March
It's official — Hillary Clinton, the presumptive Democratic presidential nominee, has chosen Tim Kaine to be her running mate after weeks of speculation that the Virginia senator was the leading candidate and would a safe choice for the party. Since Clinton's announcement hit headlines, many — including Donald Trump — have been wondering what the Democratic senator has been doing during his nearly 20 years in politics. One question that's been getting some buzz: Did Tim Kaine use public funds without permission? He's joked in the past about his scandal-free background, but found himself at the center of criticism more than a decade ago after spending $6,000 of public funds during his time as the mayor of Richmond.
The public funds in question were spent on buses to the Million Mom March, a anti-gun violence rally held on Mother's Day in 2000, which drew in nearly one million participants nationwide. After the move created a heated backlash, Kaine paid the funds back with money he privately raised. While this has been seen as a "dumb move" during his political career, it seems as though he was able to clean up that mess in Virginia, where he later became the governor, then senator, and now the Democratic vice presidential candidate.
Even though Kaine has faced backlash over this the political move he made to promote gun restrictions, he's still been considered as boring as he his safe for this election season, which has been quite the opposite thus far.
"I am boring," Kaine said in an appearance with Meet The Press on NBC News last month. "But boring is the fastest-growing demographic in this country."
Tighter gun control has been one of the main focuses of Clinton's presidential campaign. Back in 2000, Clinton backed the Million Mom March movement when she was the Democratic candidate for the United States Senate.
''The moms who are marching in Washington this Sunday have it right," Clinton said, according to The New York Times, before participating in the Million Mom March in 2000.
The Million Mom March — now a part of the Brady Campaign, an organization that works to prevent gun violence — was started as a grassroots movement by Donna Dees-Thomases, a New Jersey mom who was outraged by the gun violence she was seeing on TV, and decided to take action after the horrific shooting at a Jewish Community Center in California on Aug. 10, 1999, killing one and wounding five others, including three children.
Kaine is a gun owner and supports the second amendment, but has said that more needs to be done to curb the increasing incidents of gun violence in the United States.
According to his website, Kaine said:
"I support a comprehensive approach to curb gun violence which includes expanding mental health services, background record checks prior to gun purchases and responsible limits on combat combat-style weapons and high-capacity magazines. "
While Kaine's choice in 2000 to use tax-payer money to pay for transportation to anti-gun rally did not go over too well with conservative voters in Virginia, it's clear he was able to win at least enough voters back after raising the spent funds privately.
Now that Kaine is in a bigger spotlight, voters can look back at his record and see that his stance on the gun control hasn't changed all that much in the last 16 years, but maybe his future routes for spending public funds might take a safer, less controversial detour.