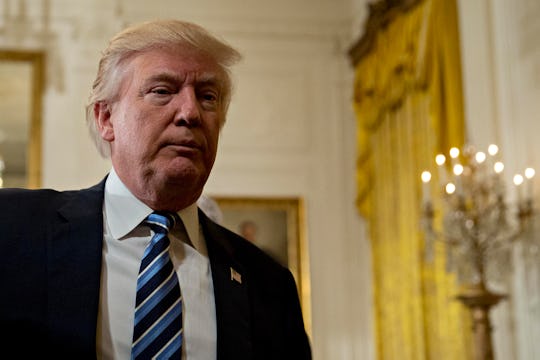 Pool/Getty Images News/Getty Images
Surprise! Trump May Have Violated The Constitution
Sometimes there are just no words to fully describe the dismay, fear, and resolution to resist that Donald Trump's presidency has inspired in so many Americans. But his unexpected Election Day victory did catapult one specific, obscure word into the general lexicon: emoluments. Now, just days after Trump's swearing in, an elite legal team has formally accused him of accepting gifts from foreign governments, as the Emoluments Clause in the Constitution expressly forbids. His critics believe that accepting payments from foreign powers through his hotels and other commercial properties sets him up to be bribed or otherwise influenced; his son Eric Trump dismissed the suit as "purely harassment for political gain." So, this and other legal action in the works could determine whether Trump really did already violate the Constitution. Romper has reached out to the White House for comment, but has not heard back.
The New York Times first broke the story Sunday night that the ethics watchdog Citizens for Responsibility and Ethics in Washington (CREW) would bring the suit first thing Monday morning. A well-known real estate mogul and self-described billionaire, Trump owns or is involved in at least 564 businesses and partnerships in at least 25 countries around the world, CNN reported.
He's adamantly refused to sell any of his investments or to place them in a truly blind trust, opting instead to entrust his business dealings to this two adult sons — an ethically questionable arrangement that does little to assure Americans that his dealings as the leader of the country will be truly separate from the prospect of this own financial gain.
So, the suit — filed in a Manhattan federal court by a team that includes both constitutional scholars and former White House ethics lawyers — demands Trump stop accepting the payments but does not seek monetary damages. "The framers of the Constitution were students of history," Deepak Gupta, one of the lawyers behind the suit, told the Times. "And they understood that one way a republic could fail is if foreign powers could corrupt our elected leaders."
In fact, The Washington Post reported shortly after Trump won the election that foreign political power players were tripping over themselves to book stays in the The Trump International Hotel in Washington, D.C. "Why wouldn't I stay at his hotel blocks from the White House, so I can tell the new president, 'I love your new hotel!'" one Asian diplomat explained to the newspaper at the time. "Isn't it rude to come to his city and say, 'I am staying at your competitor?'"
Whether or not it's rude not to stay at a Trump property, critics say doing so certainly is a relatively simple way to win the favor of the president who owns it — which is what has CREW so concerned. On the other hand, some believe that accepting payment for a service does not qualify as a gift.
At a Jan. 11 press conference, longtime Trump lawyer Sheri Dillon defended Trump's continued acceptance of these types of payments (as well as his ongoing refusal to release his tax returns with the claim that he's under audit). "No one would have thought when the Constitution was written that paying your hotel bill was an emolument," she said, according to Voice of America. Separately, a University of Iowa law professor recently concluded that Trump is not violating the Emoluments Clause because the money is going to a corporate entity rather than directly into Trump's pocket.
Although Trump is undeniably tangled up with foreign governments in a way that for presidents in unprecedented, CREW faces at least one major hurdle to having its suit accepted by the court: It must show that it has suffered because of Trump's alleged wrongdoing. It now plans to assert that dealing with Trump's alleged malfeasance has pulled its employees away from other work. But, if CREW is ultimately unsuccessful in advancing the lawsuit, the ACLU is seeking plaintiffs such as owners of a competing hotel or bed-and-breakfast who might sue, the Times reported.
Eventually, with enough litigation, Trump may just be forced to turn over his tax returns to the courts as he hashes out lawsuits.