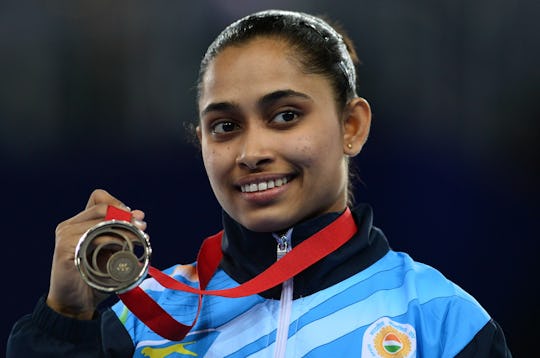 CARL COURT/AFP/Getty Images
Dipa Karmakar's Individual Vault Was One Of The Most Difficult Of The Day — Here's Why
Dipa Karmakar made history when she became the first Indian to qualify for the apparatus finals of artistic gymnastics at the Olympics. She finished in 8th place during the vaults qualification event, scoring 14.850 to advance to the finals. The pressure was on Karmakar to place during the finals and bring home the first medal for the country of India in gymnastics. In a disappointing turn of events, Karmakar came in fourth place narrowly missing the bronze medal. Her performance, though, was still massively impressive — and even more incredible, Karmakar's individual vault was one of the most difficult of the day.
Simone Biles took home her third Olympic gold medal for her performance during Vaults. While her performance was ***Flawless (as expected), Karmakar attempted a move that the American champion will not. The Produnova vault is regarded as the most difficult move any gymnast can attempt on the apparatus. Biles is understood to be the best gymnast in the world with a consistent mastery of extremely difficult techniques, however, even she steers clear of the Produnova, as The Wall Street Journal pointed out. Two gymnasts did attempt the maneuver on during the finals on Sunday: 41-year-old Oksana Chusovitina from Uzbekistan and first time Olympian Karmakar. This wasn't the first time either Olympian attempted to master the Produnova.‌
Chusovitina and Karmakar are two of only five women in gymnastics history to ever successfully land the Produnova. It's known in the world of gymnastics as the "vault of death." In order to complete this maneuver, an athlete must sprint and catapult into the air, completely two full somersaults before landing upright on their feet. Unfortunately, neither Chusovitina or Karmakar was completely successful during their attempts at the finals. Chusovitina rolled on her turn resulting in her fifth place ranking. Karmakar came even closer to landing the infamously dangerous move, however, she sat on the mat at the last second. Due to the difficulty of the move, though, she still managed to come in fourth place. Karmakar was awarded 15.066 points, trailing just behind Giulia Steingruber of Sweden with 15.216 points.
Karmakar may not have received a medal at the Olympics, but she's still capturing hearts around the world for her brave performance. She's the first ever Indian gymnast to compete in the Olympics. Her relative anonymity didn't stop her from taking to the international stage and executing the most notoriously difficult move possible. It's a historic moment for Indian athletics, as well. Many people watching knew that they were witnessing an incredible sports moment.
The world may not have seen the first Olympic medal in gymnastics for India — but it did, however, get to see the birth of a new sports legend.