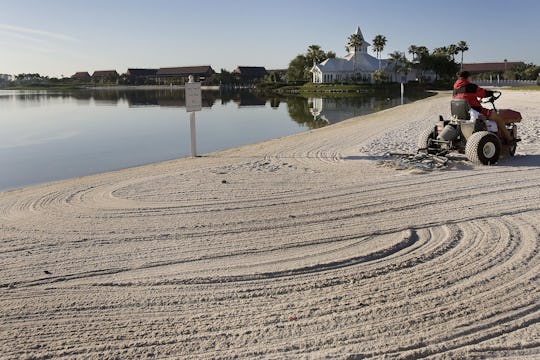 JIM WATSON/AFP/Getty Images
Disney Closes All Resort Beaches After Alligator Attack
After an alligator attacked and dragged a little boy off of a lagoon edge near Disney's Grand Floridian Tuesday night, Disney closed all resort beaches out of an "abundance of caution," according to a tweet from CBS News' Chris Martinez. Orange County Sheriff Jerry Demings told reporters at a press conference Tuesday that there are posted signs warning people not to swim in the lagoon, according to USA Today, but it's unclear whether those signs note the danger of alligators. Though the attack happened at the edge of a lagoon and not one of Disney's beaches that where swimming is permitted, Disney has still closed all beaches while the search-and-rescue operation for the missing 2-year-old takes place, according to the New York Post.
According to Demings, the 2-year-old was playing at the edge of the Seven Seas Lagoon while his parents were nearby when a 7- to 8-foot alligator snatched him and fled. Though the boy's father immediately chased the alligator and tried to grab his son, the alligator got away, according to USA Today. Since then, search teams haven't stopped looking for the boy, and Demings said they are trying to stay positive, according to USA Today:
We are very hopeful. Sometimes you get the worst, but we are hoping for the best.
Since Tuesday night, the search team found four alligators near where the boy was taken. They euthanized and searched the alligators for traces of him, but none of them seemed to have contact with him, according to the Miami Herald.
Already, judgmental trolls on Twitter have started jumping to conclusions about whether the parents were neglecting their child by letting him play in a lagoon without someone standing immediately next to him. But blaming the parents in this horrific accident seems like the wrong reaction to jump to — just like it was in the Cincinnati Zoo incident. The parents in this case were nearby, they were keeping a close eye on the child, and they had no idea that there were alligators in the lagoon. Sure, the sign said guests shouldn't swim in the lagoon, but is letting their son sit on the edge of the water swimming? Judgment that results from the foggy line of whether their child was swimming or whether they followed resort rules will get us no closer to the boy being found or the prevention of another tragedy like this.