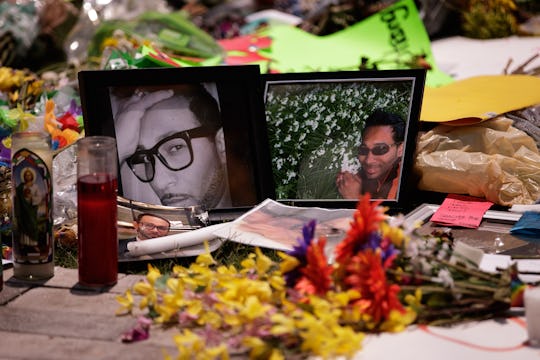 Drew Angerer/Getty Images News/Getty Images
Disney Donates $1 Million To Orlando Shooting Victims Fund
For a long time, Walt Disney World was the first thing that many people thought of when they heard the word "Orlando." That changed with Sunday's tragic mass shooting, which turned a city known for being home to the "happiest place on Earth" into a place of grief and shock. Now, the entertainment conglomerate behind the theme park is showing its support for the victims, with Disney donating $1 million to an Orlando shooting victims fund.
The One Orlando Fund was announced on Monday by Orlando mayor Buddy Dyer in response to the attack, in which gunman Omar Mateen entered a gay nightclub called Pulse and killed 49 people, injuring at least 53 others, before he was shot and killed by a SWAT team. The fund will support nonprofit organizations aiding in the recovery, benefit the affected communities and, according to its website at OneOrlando.org, help to address the "underlying causes of this tragic event."
In announcing Disney's donation to the fund, as well as Disney's commitment to matching donations from its employees, Bob Chapek, the chairman of Walt Disney Parks and Resorts, said:
We are heartbroken by this tragedy and hope our commitment will help those in the community affected by this senseless act. With 74,000 cast members who call Orlando home, we mourn the loss of the victims and offer our condolences to their families, friends and loved ones."
The shooting, which was the deadliest in modern United States history, hit close to home for Disney in more than just a physical way. Jerald Arthur Wright, a theme park employee who had worked in the Magic Kingdom, was among those killed during the attack, leaving his close Disney friend group stunned and heartbroken.
And new reports have surfaced indicating that Disney itself may have narrowly escaped an attack. A law enforcement official said on Tuesday that Mateen, in addition to scouting out Pulse, also made surveillance trips to Disney Springs, a shopping complex previously known as Downtown Disney, during the first week of June. It was a time coinciding with Gay Days 2016, a popular gay and lesbian celebration. According to reports, Mateen may have struggled with his own sexuality and was allegedly on multiple gay dating websites, motivating speculation that the attack was a form of self-hatred turned outward.
Though nothing will ever be able to repair the pain and damage caused by Mateen's horrific act, hopefully the money raised by the One Orlando fund can ease the recovery of those left standing. And, of course, you don't have to be a massive corporation to help. You can donate to the One Orlando fund or to a GoFundMe effort by Equality Florida that has already raised over $3 million.
And if the fact that Mateen was able to easily and legally access the assault rifle he used to carry out the attack infuriates you, you can contact your elected representative about gun control so that, just maybe, Congress will do something to prevent future attacks of this nature.