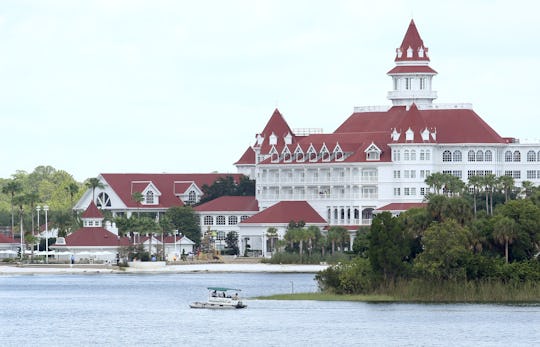 GREGG NEWTON/AFP/Getty Images
Disney Will Add Alligator Warning Signs Across Its Resort To Alert Visitors Of Risks
Following Tuesday night's tragic alligator attack at Disney's Grand Floridian resort, which resulted in the death 2-year-old Nebraska boy Lane Graves, Jacquee Wahler, vice president of communications at Walt Disney World, announced that Disney will add alligator warning signs across its resort to let visitors know of the potential for danger, according to ABC News. In a statement released Thursday evening, Wahler said,
We have closed all of our beaches and have made a decision to add signage, and we are also conducting a swift and thorough review of all of our processes and protocols.
Graves was snatched by the alligator while wading in the Seven Seas Lagoon while his parents and 4-year-old sister sat nearby. His father reportedly attempted to wrestle his son free from alligator, but was unsuccessful. Graves' body was recovered from the water Wednesday afternoon, and an autopsy determined he died from drowning and traumatic injuries.
A number of alligator experts have noted that, while attacks involving humans like the one at Disney are rare, anyone visiting Florida should be aware that alligators are very common, and could be found in pretty much anywhere. As Tim Williams of Gatorland noted in an interview with Robin Meade on HLN,
There are three things we tell people you're going to find when you come to Florida. You're going to find mosquitoes, you're going to find cockroaches, and you're going to find alligators. I always expect to find an alligator in any fresh or brackish body of water. Always.
Lyrissa Lidsky, a professor at the University of Florida Law School, agreed, telling ABC News,
Everyone in southern Florida knows not to walk their dogs by a body of water without a leash, especially at night. The dog will get eaten.
Of course, though it may be true that alligators are just part of life for Florida residents, Disney resorts welcome tourists (and countless young children) from all over the world, many of whom wouldn't necessarily be aware of the threat of alligators lurking in the water. The question that pretty much everyone is pondering today, then, is, why weren't signs already there? The answer isn't exactly clear. On the one hand, there were "no swimming" signs posted along the water, but nothing warning about alligators specifically. In fact, a number of families who stayed at the same Disney resort have come forward since the attack, saying they also spent time on the same beach at night, and had no idea they were at risk.
Dani Saunders, a mom of two from Saratoga County in New York, told ABC News 10 that she and her family visited a Disney resort three weeks ago, and like the Graves family, went to watch the nightly fireworks display on the beach, assuming it was safe. But two teenagers who lived in the area warned Saunders that they should stay off the beach because it was alligator breeding season — something she said the resort should have clearly communicated to its guests. Saunders' partner Christopher Spackman told the news station,
No one told us except two teenagers. No signs saying there are alligators in the water.
Other families have shared their own close calls with alligators at Disney, and are wondering if Tuesday's attack could have been prevented. San Diego lawyer David Hiden told CBS News that his own son was almost attacked in the same way that Graves was, while visiting a Disney resort in April 2015. The boy was wading in the lagoon when Hiden spotted the alligator:
I saw something rapidly coming on like a submarine. And I look and I went, 'Oh my god. That's an alligator.' And it was probably about six to seven feet.
Hiden said he was able to grab his son and bring him to safety, but when he reported the incident to the resort, he claimed a hotel manager dismissed his concerns:
And the response, I couldn't believe it. It was, 'Those are resident pets, and we've known about them for years. And they're harmless, they're not going to attack anybody.
Orlando personal injury lawyer Lou Pendas told Reuters he thought Disney certainly could have done more to prevent the attack, and that legally, they could be liable for what happened:
These people are from Nebraska and I can guarantee never once did they think they were in any type of danger letting their child wade in six inches of water...This is unbelievably rare but could easily have been avoided by proper signage and perhaps building a retention wall to keep the alligators off the beach. The law says you have to take appropriate steps to keep your invitees safe.
Lane Graves' parents, Matt and Melissa Graves, released a statement following their son's death expressing their heartache, according to ABC News:
Words cannot describe the shock and grief our family is experiencing over the loss of our son. We are devastated and ask for privacy during this extremely difficult time. To all of the local authorities and staff who worked tirelessly these past 24 hours, we express our deepest gratitude
While alligator warning signs sadly won't do anything to help the Graves family now that their son is gone, hopefully at the very least, they will be an important reminder to all Disney visitors to exercise caution, and to stay out of the water, especially at night.