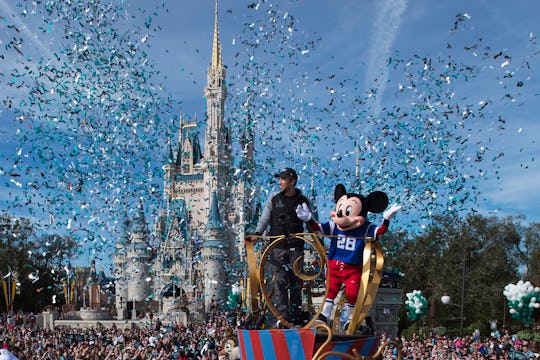 Handout/Getty Images Entertainment/Getty Images
More Disney World Restaurants Are Serving Alcohol, So It Might Be Time For A Family Vacay
As parents everywhere know to be true, there are just certain trips that you take your kids on that are bound to be a bit more stressful than others. Taking your family on an overseas trip, for instance, will definitely require a lot of planning. Another stressful trip, though? Disney World. However, that could all change. Why? Well, Disney World will sell more alcohol now, which means parents everywhere can relax. Well, maybe not too much.
But still, you get the point. The happiest place on earth just got a whole lot happier (for anyone over the age of 21 that is), because three sit-down restaurants have joined in and will be serving alcohol. According to People, "three new restaurants inside the resort's original park have added alcohol to their menus, meaning that those over the age of 21 can now drink at all table-service establishments on the premises." Basically, if you're a parent wondering whether or not a trip to Disney World is a good idea, you might want to reconsider.
Even though there is no hard liquor at the Magic Kingdom (for now), there's now more wine and beer, which means that while your kids are waiting in line to meet Elsa and Belle, you can be a lot more at ease.
So, what are the three restaurants that will be serving wine and beer now? Well, according to the official Disney Park's website, the three restaurants in question are the Plaza Restaurant, the Crystal Palace, and the Diamond Horseshoe. What's more, it seems as though the menu expansion isn't just your run-of-the-mill beer and wine menu.
According to the Disney Park website, the Plaza's drink menu will feature "a regional craft India Pale Ale which goes wonderfully with the Angus Chuck Cheeseburger." Additionally, the Crystal Palace's drink selection will definitely be keeping with the restaurant's classy name, as it will "offer sparkling wine mimosas with breakfast, and wines such as Pinot Noir and Chardonnay to pair selections such as pasta or shrimp from the lunch and dinner buffets," per the Park's website. And last, but certainly not least, the Diamond Horseshoe will be serving up more traditional beers and wines to go with the barbecue theme.
Now, while it might seem odd that all of the restaurants at Disney World's Magic Kingdom haven't always served beer and wine, it's actually fairly recent that any establishment at the park has done so. In fact, as the Inquisitr reported,
Walt's Blue Law had been in effect in all of Walt Disney World since the first paying guests stepped through the gates in 1971. That law had been amended incrementally as other theme parks opened, but the resort's flagship park, the Magic Kingdom, had been dry until 2012, when the Be Our Guest restaurant opened with beer on the menu.
It's pretty exciting that three more restaurants are joining in to allow visitors to wind down with a glass of, well, wine. Or beer. Or a selection of specialty cocktails, as Fox News reported. The Plaza's signature drink was described as a "sangria made with Kenwood Sauvignon Blanc, pineapple juice, spice, and fruit," per Fox News.
Since the happy news was announced that parents could enjoy a glass of wine at the park, Twitter users have definitely been excited about the change.
Obviously, it's not just parents who are excited for this new announcement, but still. When you're already spending a lot of money to go on a trip and your kids, there's absolutely nothing wrong with having a glass of wine (or two). Just maybe don't hop on Splash Mountain right after. And remember: drink responsibly, especially when you are chaperoning your children!
Please note an earlier version of this article's headline stated that "all" of Disney World's restaurants would be serving alcohol. That is incorrect, and therefore our article and headline have been updated to reflect the correct information.