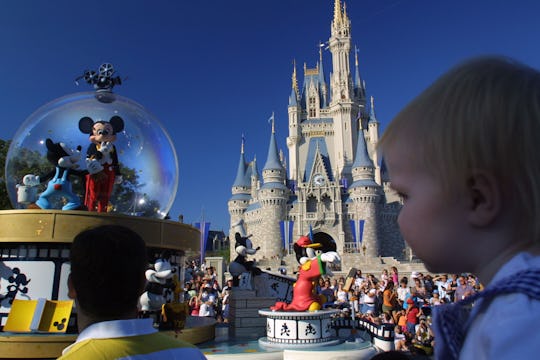 Joe Raedle/Getty Images News/Getty Images
Disney Now Has A FREE Dining Plan For Kids & Here's Everything Parents Need To Know
Let's get real for a moment: Taking your children on a Disney vacation is basically the ultimate family getaway. It's time spent riding rides, visiting with your kids' favorite movie characters, eating awesome food, and generally getting away from it all — at the "happiest place on Earth," nonetheless. What could be better? Unfortunately, a trip to see Cinderella's castle in-person generally comes with a hefty price tag. Between hotel costs, actual tickets to the park, food and snacks, souvenirs, and incidentals, the costs can add up — and fast. However, Disney's free dining plan for kids could save parents more than $100 this summer. And here's what you need to know.
On Wednesday morning, Disney World announced its new free dining plan for kids between the ages of 3 and 9. However, it's important to note that there is a very specific list of criteria you have to meet in order to take advantage of this deal. So here's the lowdown, according to Disney's website.
You only qualify for the free kids' dining plan if you first purchase a three-night/three-day Magic Your Way package for you and your kid(s) that includes: A room at a select Disney Resort hotel, theme park tickets, and a dining plan. Additionally, the deal is valid for arrivals on most nights between May 28 and Aug. 30, 2018 — just make sure you have it booked by Aug. 1. Whew, did you get all of that? Good, because there's more.
As PopSugar explained, all three of Disney's dining plans — Disney Quick-Service Dining Plan, Disney Dining Plan, and Disney Deluxe Dining plan — are available for the kiddos as part of the deal, just as long as everyone traveling with you is on the same plan. Good Housekeeping also pointed out that these three dining packages range in price from $21.75 to $39.90 per night. So the free kids' dining plan would wind up saving a family between $65.25 and $119.70 per child over three nights. Not too shabby, eh?
Considering Disney recently raised prices on park tickets (as well as parking), according to Forbes, families are probably trying to save anywhere they can. And every little bit helps. As an added incentive, Toy Story Land will officially open on June 30 at Disney's Hollywood Studios, People reported. And who doesn't want to immerse themselves in a toys'-eye-view of the world?
FYI: the number of rooms allocated for this offer are limited, according to Disney's website. So if this deal sounds enticing to you, it's probably wise to act fast. Because this cinnamon roll looks amazing.
And so does this All-American Sundae.
And basically everything on this plate. (Heck, can I go on vacation by myself and just walk around eating food the whole time?)
Guys, I have a confession to make: I honestly don't get all of the hype surrounding Disney World. Maybe it's because I hate crowds. Or maybe it's because I never understood the draw to wait in endless lines in order to take a photo with someone dressed as a Disney character. Or perhaps I'm just cheap. But I'd much rather be riding roller coasters with my kids at a theme park that doesn't cost an arm and a leg. Still, I realize that I'm probably in the minority, here. So I won't rain on your parade.
For parents who are willing and able to shell out the money for an iconic family vacay at Disney World, more power to you. Maybe this free kids' dining plan will help you save some money along the way, or allow some families to take the trip altogether. Just make sure to read all of the details in this sweet deal — so there aren't any unpleasant surprises when your Disney vacation rolls around.
Check out Romper's new video series, Bearing The Motherload, where disagreeing parents from different sides of an issue sit down with a mediator and talk about how to support (and not judge) each other's parenting perspectives. New episodes air Mondays on Facebook.