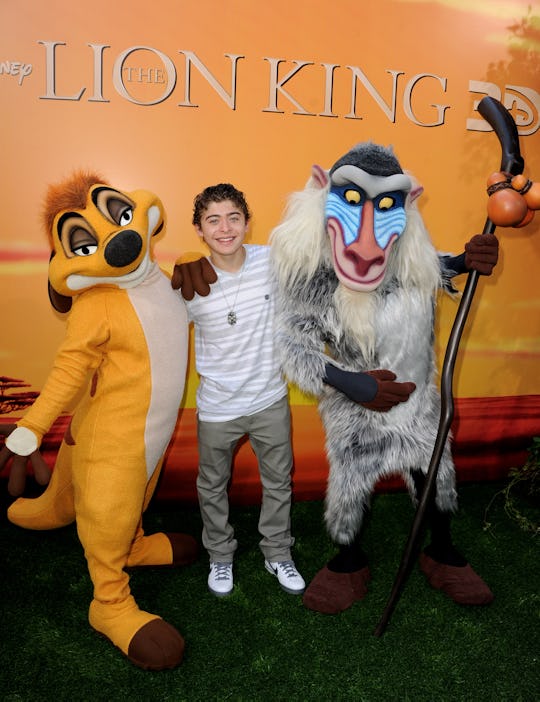 Kevin Winter/Getty Images Entertainment/Getty Images
You'll Have To Wait For A Live-Action 'Lion King' Premiere
Disney shared a slew of release dates on Tuesday, giving fans plenty of forthcoming films to get amped about. Many of these dates, though, are pretty far in the future — I'm talkin' years, here. Disney's live-action Lion King release date, for instance, won't come for some time. If you "just can't wait to be king," it looks like you're going to have to — until July of 2019, that is.
Seeing as the film is still in its casting phases, it's not super surprising that the final product is a ways away. Seth Rogen and Billy Eichner just joined the cast, offering their vocal talents to odd couple favorites Timon and Pumba. Previously confirmed, the beloved Simba will be voiced by Donald Glover, and James Earl Jones will lend his voice once again for Mufasa. Though plenty of roles have yet to be filled, these stars prove that it's already shaping up to be a must-see.
Jon Favreau, director of The Jungle Book's remake, will tackle The Lion King, too. Despite being so-well versed in remakes, Favreau isn't taking the task of transforming a classic lightly. In a talk at the Tribeca Film Festival this year, Favreau acknowledged that "The Jungle Book was 50 years ago, Lion King was 20, and people grew up with it in an age of video where they watched it over and over again." He also noted that "the myths are very strong in it, so you're hitting something even deeper than the movie sometimes." Like The Jungle Book, you can expect plenty of the old mixed in with plenty of the new, all done with a sensitive, keen eye that respects the original.
Even though The Lion King won't be released until July 19, 2019, there are plenty of other Disney reboots to look forward to in the meantime. A Wreck-It Ralph sequel will debut Nov. 12, 2018 and new Star Wars installments are coming your way on Dec. 15, 2017, and then again in May of 2019. After The Lion King, a new Frozen film and a revamped Indiana Jones will premiere as well, both in 2019. For a full list of Disney's forthcoming releases, you can consult Tuesday's press release. There's plenty to get excited over.
You have over two years to wait, which gives you plenty of time to watch the 1994 original over and over again, perfecting each and every song. If that's not enough you could, I don't know, try to catch The Lion King on Broadway in the meantime?