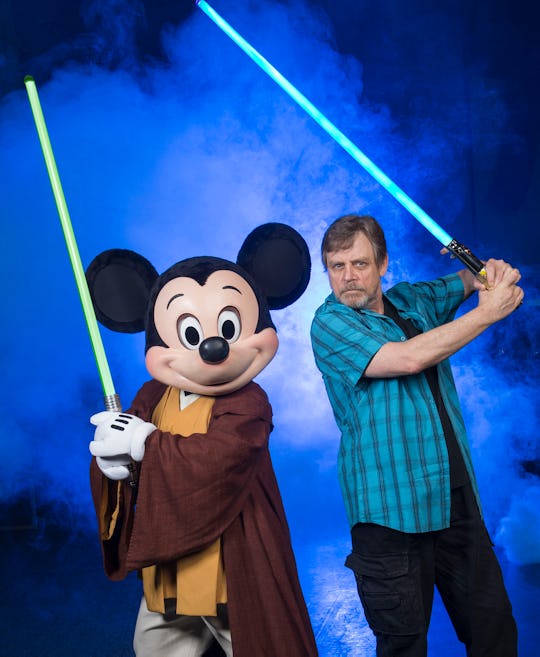 Handout/Getty Images Entertainment/Getty Images
Disney's Launching It's Own Exclusive Streaming Service
Calling all Walt Disney fans! Have you ever wanted to have all your favorite Disney movies in one place, available to watch anytime you wanted? Well, get ready for an exciting New Year, then, because Disney's streaming service will launch in 2019, and it's predicted to change the streaming game.
UPDATE: On April 11, 2019, Disney announced that the streaming service — named Disney+ — will launch on Nov. 12 and will cost $6.99 a month. "The service will offer fans of all ages a new way to experience the unparalleled content from the Company's iconic entertainment brands, including Disney, Pixar, Marvel, Star Wars, and National Geographic, and will be available on connected TV and mobile devices," Disney said in a press release.
EARLIER: News of Disney's streaming service is not actual new. The company announced last year that it planned to develop an app that would rival the likes of Hulu and Netflix, according to CNET. But this week, Disney confirmed that it's aiming to roll out its streaming service by the end of next year, CNET reported.
And when Disney's direct-to-customer service does launch, it's going to disrupt the streaming experience as you know it. That's because Disney will pull its movies from Netflix, which brings in $300 million in annual revenue for the company, and make them available through its own service, according to Variety. Those movies will include Moana, The Lion King, and Frozen, as well as its slate of movies from Pixar and Marvel Studios, including Toy Story 4, Captain Marvel, and Ant-Man and the Wasp.
Disney hasn't revealed how much the service will cost, but the price point will be less than Netflix's $8 to $14 monthly fee, Variety reported.
But Disney's streaming service won't only include movies — it will also feature shows. The new season of Star Wars: The Clone Wars will be among the series available through the platform, as well as a number of other projects in development from different Disney brands, including the live-action Star Wars TV series being developed by Jon Favreau, according to Digital Trends. Another Favreau project, the live-action remake of The Lion King, will also premiere on Disney's new streaming service in 2019, Digital Trends reported.
Disney isn't pulling everything from competing platforms, though. Original Disney and Marvel content, such as live-action shows Jessica Jones, Luke Cage, and Daredevil, will continue to be available on Netflix, according to Digital Trends.
As for the name, that's yet to be revealed, although some confusion abounds. It all started whenVariety reported last week that the streaming service would be named "Disney Play." But the magazine issued a correction to its feature, noting that "Disney Play" is, in fact, not the working title of the service.
That hasn't stop speculation that Disney Play would be the service's official moniker. But a representative for Disney told CNET that the so-called "Netflix killer" remains without a name.
The Disney rep wrote in an email to CNET:
A name for the upcoming Disney streaming service has not yet been announced.
Regardless of its title, whatever that may be, Disney is putting its weight behind the impending streaming platform. In his interview with Variety, Bob Iger, Disney's chairman and CEO, called Disney's streaming service "the biggest priority of the company during calendar [year] 2019."
Disney, though, can't compete with Netflix in terms of the volume of shows and movies, but it can compete in terms of exclusivity — a point Iger acknowledged in his interview with Variety. He told the magazine:
We have the luxury of programming this product with programs from those brands or derived from those brands, which obviously creates a demand and gives us the ability to not necessarily be in the volume game, but to be in the quality game.
It's doubtful that Disney's streaming platform could topple Netflix dominance as the world's most valuable media company. But the service will no doubt give Netflix a run for its money when it launches late next year. Disney fans, get ready.