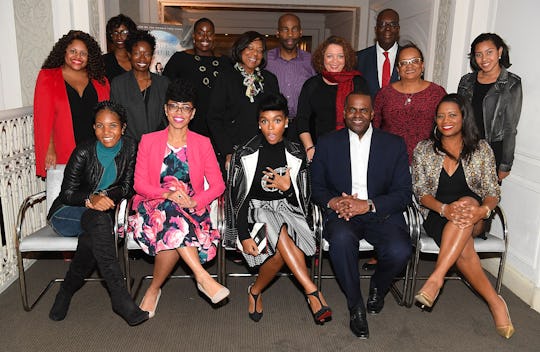 Paras Griffin/Getty Images Entertainment/Getty Images
People Are Hopeful, But #OscarsSoWhite Isn't Over
The 89th Annual Academy Award nominations have arrived and are, thankfully, more diverse than years past. With films highlighting people (and women) of color — like Hidden Figures, Moonlight, and OJ: Made in America — all securing nominations, and actors of color — like Denzel Washington, Viola Davis, Octavia Spencer, and Ruth Negga (among others) — up for awards in high-profile categories, it's safe to say diversity was represented at the 2017 Oscar nominations. However, that doesn't mean the infamous, and not to mention necessary, #OscarsSoWhite conversation is far from over. While the current nominee list is an improvement in diversity and inclusion (both in the people nominated and the stories being told on screen) it is only a step in the right direction. But to describe the Academy's move forward as a celebratory step across the proverbial finish line or an all-inclusive hit of representation of people of color in Hollywood would be a mistake.
After two consecutive years of the Academy failing to nominate a person of color in a top acting or directing category, the Academy of Motion Picture Arts and Sciences nominated six black actors: Denzel Washington (Fences), Mahershala Ali (Moonlight), Ruth Negga (Loving), Naomie Harris (Moonlight), Octavia Spencer (Hidden Figures) and Viola Davis (Fences). Joi McMillon, Moonlight's editor, became the first African-American woman to secure an Oscar nomination in an editing category when she was nominated with fellow-editor Nat Sanders.
While the director category doesn't feature a woman, it does feature four non-white directors: Barry Jenkins for Moonlight, Ava DuVernay for 13th, Raoul Peck for I Am Not Your Negro, and Ezra Edelmen for OJ: Made In America. The diversity now present in the director category, despite the lack of women represented, is, again, a step in the right direction, as it took until the year 2014 for a film helmed by a black director to win an Oscar for Best Picture (12 Years A Slave). There are also three black-themed films up for Best Picture this year: Moonlight, Fences, and Hidden Figures.
Still, claims that the #OscarSoWhite conversation — a two-year long backlash to the lack of representation of people of color in both high-profile categories and movies — is "over" are naive at best and forgetful at worst. The idea that a certain number of people of color or women being present in categories has "fixed" the diversity problem in Hollywood in our media is not only absurd but a blatant disregard for the ongoing problems of diverse representation and systematic racism across the board.
The ongoing battle for equal representation in Hollywood is just that: a battle. The backlash and power of #OscarsSoWhite is arguably one reason why diversity is so present in this year's Oscar nominees. (Among the many other reasons would be the sheer talent of those nominated.) The Academy was under great scrutiny for two years, going so far as to promising it would "fix problems of race and representation" by doubling the number of women and people of color in their membership. In 2016, Academy President Cheryl Boone Issacs announced a four-year plan to "change the face of its membership," saying, "These new measures regarding governance and voting will have an immediate impact and begin the process of significantly changing our membership composition." Following Issacs' announcement, the Academy recruited 683 new members, mostly women and people of color, making up their most diverse member class to date.
It was the scrutiny of the people — and an online social media activist campaign — that put the pressure on Isaacs and the Academy to make tangible changes that would result in what film fans are seeing today: a list of nominees that better represents the United States of America.
However, the work isn't over, nor should those of us who believe in the power of diversity sit back and say, "Our job here is done." After all, La La Land has a record 14 Oscar nominations, and even two nominations in one category.
#OscarsSoWhite creator and entertainment journalist April Reign told Entertainment Tonight that while today was a hopeful gesture in part by the Academy, there is still work to be done:
While we've had a spate of films that reflect the black experience, we still don't have films that reflect the Latino experience, the Asian-American/Pacific Islander experience, the LGBTQIA experience. Let's remember that #OscarsSoWhite is not just about race, and definitely not just about the black race. While we've had some forward movement, there is a lot of work that needs to be done.
Perhaps, the true sign that "our work here is done" will be when it's not seen as a "win" to have diverse representation in television, film, and all aspects of media. Instead, it will just be considered a normal depiction of everyday American life. After all, it is.