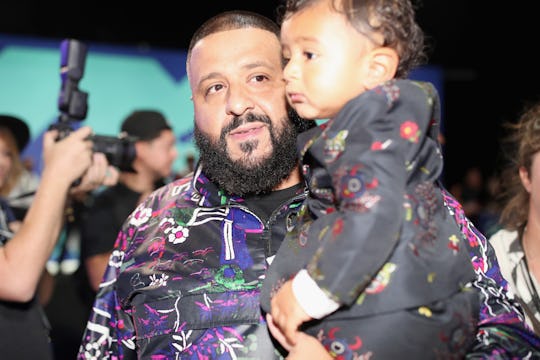 Christopher Polk/Getty Images Entertainment/Getty Images
People Are Dying Over The Tiny Suit DJ Khaled's Baby Son Wore To The VMAs
If there's one person who has officially won the hearts of just about everyone, it's DJ Khalad...'s baby. Yes, DJ Khaled brought his baby son to the VMAs in a tiny suit, and the internet can't handle it. Baby Asahd may only be 10 months old, but he's already accomplished more than most people will in their entire lives. Seriously. The little guy has a producer's credit on his father's album, Grateful, has 1.4 million followers on Instagram, and wears custom Gucci suits to red carpet events just as casually as you run to the grocery store in leggings and a t-shirt.
But Asahd's fame actually makes a lot of sense. He's adorable, and his dad is mega-famous. And so, it also makes sense that when he showed up to the VMAs looking like a certified stud, the internet went a little crazy. And even better? According to his dad, someone from Gucci literally came to the Khaled home to make sure Asahd's suit fit perfectly. Khaled went on to say that Asahd was feeling pretty "grateful" for his four nominations alongside his dad, and that "he's excited about life."
But if you don't believe me about how adorable Asahd looked on Sunday, just see for yourself:
For a while, people weren't sure if DJ Khaled would bring little Asahd to the show Sunday. After all, a red carpet event filled with flashing cameras, countless celebrities, and loud music isn't exactly what most people would call "kid-friendly." But clearly, Asahd is a total professional when it comes to hanging out with the big kids.
And obviously, the internet approved of little Asahd's sweet style.
Of course, any photo of Asahd is a blessing to us mere mortals, but his own pic from his Instagram on his way to the show might just melt your heart:
It's OK if you need a moment to recover after all that cuteness. Monsters on a little baby suit? I'll wait for you to start breathing again.
Ready? Good. Let's move on.
Whether or not Khaled and his son Asahd win any awards tonight, it's clear that he's already got it made with his family by his side. And it's also important to note that Asahd has plenty of time to make his mark on the world, although it would be pretty cool for a 10-month-old to be able to put "VMA Winner" on his resume.