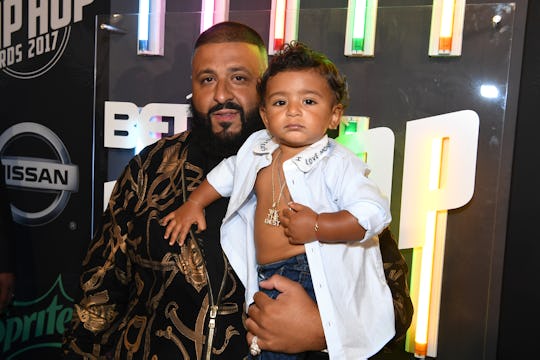 Paras Griffin/Getty Images Entertainment/Getty Images
DJ Khaled Teaches His Son Every Day Is His Birthday & Here's Why Every Parent Should, Too
Can you imagine if every day was your birthday? It might get old pretty fast ( or an introvert's worst nightmare, if you will), but there is something so magical about the day of your birthday that makes you look forward to it year after year. It's a day to embrace the people in your life and celebrate yet another year of being alive. And this could be exactly why DJ Khaled is teaching his son every day is his birthday and it's something that parents could start doing with their own children, too.
Having your birthday every day seems like a pretty sweet gig. Not only would you wake up with a huge smile on your face every morning, but you would probably be intentional with your day — treating yourself to a nice meal, throwing a party, or spending time with your friends and family just because it is your day to do that. But who's not to say that you can't do this, every day?
That is DJ Khaled's philosophy when it comes to raising his 1-year-old son, Asahd with fiancé, Nicole Tuck. Khaled told People on Wednesday all about why he is taking this unique approach to raising his child:
When I say it's his birthday every day, God gave us life, we're breathing, we have a family — we have to celebrate that. Even if something ain't going right that day, I go outside and I breathe, and I say "Man, God is so great, I've got life," even if it's a bad day because I could overcome it because I'm breathing.
This philosophy really could not be any more refreshing and something that every parent could apply to their own parenting methods. Even on the worst days, when it seems like nothing can go right, there is always a reason to celebrate. Whether it's celebrating the fact that your kid made progress in the book they were reading or that everyone got out the door on time in the morning — why shouldn't you be grateful for those things?
Asahd certainly has a lot to celebrate, every day. In the past year he has walked a dozen red carpets in designer suits (before he could walk), executive produced a hit album, helped Khaled overcome his fear of flying, and gained more Instagram followers than some people will in their entire lifetime.
And Asahd just recently celebrated his real birthday at the end of last month in a pretty lavish way. Asahd, according to Billboard, celebrated his first birthday at a Miami nightclub, surrounded by celebrity friends. The jungle themed birthday celebration reportedly featured kid-sized cars at the valet and dancers dressed up in animal costumes. Asahd even reportedly received a $100,000 diamond encrusted watch for his birthday present from his dad, according to Billboard. With a first birthday as great as that, who wouldn't want to live every day like it was their birthday?
In all seriousness, while the way that Khaled celebrates his son might seem a little extravagant to some parents, science has shown that telling your child positive words of affirmation and using positive reinforcement produces positive results, according to Live Strong, with long-term and short-term benefits that can help them throughout life. If telling your child that you're grateful for them and teaching to be grateful in return can have a positive impact on their life, then why not throw them a few compliments every day?
This could also be why Khaled is teaching his son to surround himself with people he loves and people who love him, so early on. Khaled told People:
I'm teaching my son, "When it comes to Mommy and Daddy, you're only gonna see love and inspiration and beauty and motivation and we're here for you." So when he grows up, and something's not love, he's gonna know. My son wakes up every day smiling, he goes to bed smiling. That's what it's about. He's my life.
Khaled's words are a reminder that every day is worth celebrating. So, in the words of DJ Khaled himself: "bless up."
Check out Romper's new video series, Romper's Doula Diaries:
Watch full episodes of Romper's Doula Diaries on Facebook Watch.