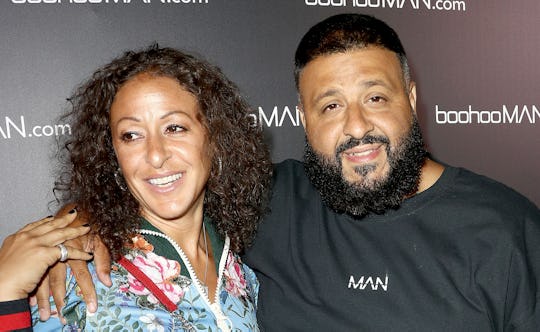 Frederick M. Brown/Getty Images Entertainment/Getty Images
DJ Khaled & Nicole Tuck Reveal "Another Blessing" Is On The Way In Sweet Video
Looks like there's going to be another one in the Khaled family. DJ Khaled and Nicole Tuck are expecting another child. The songwriter and record producer announced that he and his wife would soon be welcoming their second child together in a sweet Instagram post that featured video footage from one of Tuck's sonogram appointments.
"Another one, huh," Khaled can be heard joyfully telling Tuck in the video, a reference to his popular catchphrase "another one," which he often uses as a way of jokingly asking for more of something.
"God is the greatest," Khaled wrote in the caption of his Instagram post. "All I ever wanted to do was inspire the world to be great and to leave a legacy."
The songwriter goes on to say that he knew he and his wife were finally on their way toward creating their own legacy when Tuck became pregnant with their first child, now-2-year-old Asahd Tuck Khaled. "Almost 3 years ago when I found out my queen was expecting our son Asahd I knew my life would change forever and that OUR legacy would soon be on the way," he wrote.
While becoming a father was an important milestone for the American DJ, Khaled said his son also ended up having a major impact on his career by inspiring him to record and release "Grateful" and "Father Of Asahd." Khaled called both albums "some of my biggest albums to date." What's more, he's made sure to properly credit and repay his son for the inspiration he bestows on him. The DJ has listed Asahd as an executive producer on every album he has released since his birth in 2016, Billboard reported.
"Just when I thought life couldn't get any better, I received another blessing that my queen is expecting an addition to our legacy," Khaled wrote Thursday on Instagram. "I'm feeling more inspired than ever now." According to Khaled, he and Tuck are expecting a second baby boy.
While his career has certainly taken off in recent years, Khaled has said that his family remains one of his top focuses. "[I'm focused on] being the most amazing father and the most amazing king to my Queen," People reported Khaled said in May. "She's so beautiful! She's the most beautiful woman I've ever seen in my life." The songwriter went on to add that, to him, his son was "everything."
Since Asahd's birth, Khaled hasn't been shy about sharing just how much he has loved fatherhood. In fact, he's previously tweeted that, "Being a father was the greatest thing that happen[ed] for me," adding in the hashtag "grateful."
And there's no doubt then that his second child with Tuck will likely be just as celebrated and loved by the music mogul as his first. On Thursday, Khaled was already showering his soon-to-be son with love. "MAMA ASAHD, ASAHD WE GOT ANOTHER ONE," the songwriter wrote on Instagram before turning his attention to his family's newest addition. "To the little boy in my QUEEN'S BELLY I LOVE YOU SO MUCH."